Ways to Repurpose Clip On Earrings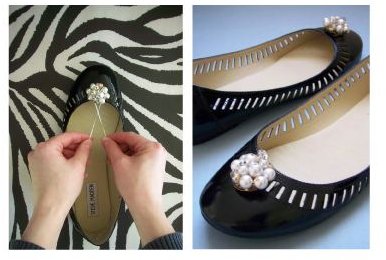 Repurpose Clip On Earrings
The term repurpose means to take an item and find another use for it. Sometimes an item can be given new life with another useful purpose without much modification, while at other times changes need to be made in order to repurpose an item. Part of the fun of repurposing items is by going green and getting crafty at the same time. People have taken old t-shirts and made them shorts, pillows and even dresses. Items like kitchen glass jars and cans have become organizational items holding any number of objects like nails and beads.
One item that falls under the easy to reurpose category is that of old clip on earrings. Clip on earrings can be both decorative and functional using the clasp that comes with the pieces. Creations that people have come up with range from decorating old shoes, making pierced earrings and even using the clip on earrings as stylish paper clips. The only real limitation to reurposing old clip on earrings is your imagination. Here we take a closer look at some products that people have created along with some new ideas on how to repurpose clip on earrings.
Various Ways to Repurpose Clip on Earrings
Laura Naples, who is a graphic designer and contributor to the SCOOP blog, has taken clip on earrings and reurposed them for shoes. Laura took several pairs of clip on earrings and added them to ballet style flats. The image on the left is a pair of her black flat ballet slippers with clip on earrings added to the top. For more information visit her post entitled Reurpose: Clip-On Earrings.
Meghan Udell for Shoestring magazine, created a necklace design with repurposed clip on earrings in mind. Taking ribbon as an embellishment for the necklace design, she used a clip on earring to hold the items together and give a little flair to the necklace. You can see Megahn's creation and learn how she created her work through Shoestring Magazine: 5 DIY Statement Necklaces Under $5.
Other crafty ideas for repurposing clip on earrings include:
Use them as small barrettes
Use them as small and decorative paper clips
Turn them into pierced earrings by changing the backs
Take the backs off and use them for decorative embellishments for other projects
Use them as decorative pulls for ceiling fan chains
Pull the backs off and use as beading type features for necklaces
Use them as bookmarks
Attached them to plain headbands to add some flair
Use them to hang the lighter ornaments on your Christmas tree for added sparkle
Clip on earrings are really very versatile when it comes to repurposing them. Whether you use the attached clip or pull the clip off and use the decorative piece for something else, there are so many possibilities when repurposing this item. You can never go wrong with clip on earrings!
*image provided by and © 2010 Beautiful Orange