Finding Green and Baby Safe Detergents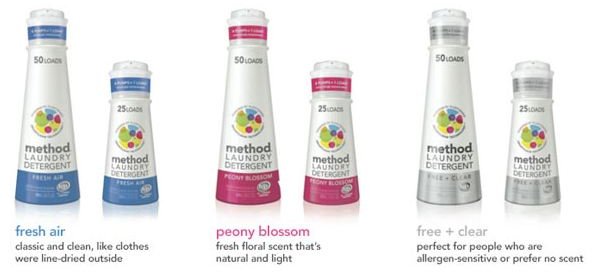 Demand for Baby Safe Detergents
In the modern green movement, the popularity and demand for safer laundry detergents has made the products easier for the average consumer to get. While some states have passed laws to protect their waterways by banning detergents that contain sulfates the higher green product demand comes from taking care of the family in the most natural way possible. Because of this demand the organic and natural laundry detergent market has opened up to a wide range of products that include detergents that are safe enough to use with little ones in the home.
Method Laundry
The Method company was created by Adam Lowry and Eric Ryan in an effort to fight dirty in a green way. After being exposed to the effects of toxic chemicals in home and lifestyle cleaning products they decided to make a better way to clean for themselves, others and the environment. Their company's products have become so popular that they are available at Target and Wal-Mart stores as well as Whole Foods.
Method's Laundry line consists of three laundry detergents: fresh air, peony blossom and free + clear. Each one contains non-toxic surfactants derived from coconut oil and all ingredients used to make up the detergent are 95% renewable. There laundry soap is non-irritating to skin and biodegradable. Bottles are available in 50 to 25 load size pump bottles. Method is currently running an online coupon campaign that offers $2 off for a bottle. For more information on Method Laundry and to get the coupon, visit their main web site at www.methodlaundry.com
Seventh Generation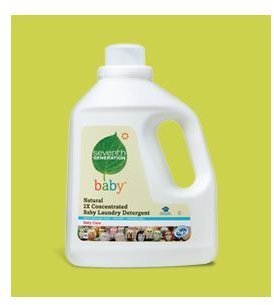 The Seventh Generation company is based out of Burlington, Vermont and has been in existence for twenty years. They have built their business on the principle of creating healthy and environmentally safe products while proving to other companies that having corporate responsibility cannot only be done but should be done. They now offer a wide range of Eco minded products that cover the full spectrum of cleaning needs to even their own line of green toilet paper.
Their laundry detergent line has gone an extra step by including a safe for baby detergent with extra cleaning power. The detergent is called 2X Concentrated Baby Laundry Liquid and is made to be non-toxic while getting stubborn stains out of baby's clothes, blankets and cloth diapers. The formula is made from plant derived cleaning agents, is biodegradable and safe for septic systems. Available at Target, Wal-Mart and Whole Foods stores this detergent is also super concentrated to save on water usage during washing. For more information on this baby safe detergent, visit the Seventh Generation baby page at www.seventhgeneration.com
*images are courtesy of and Copyright 2009 Seventh Generation, Inc. and © 2010 method.