What are Eco-Friendly Fashion Benefits?: Sustaining the World with Eco-Friendly Fashion Techniques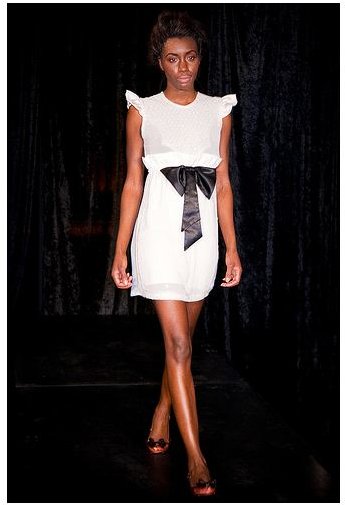 Green Fashion
A new trend is sauntering down the catwalk, and it's green. Eco-friendly fashion techniques are being used to make hip, stylish clothes, shoes and apparel. Unlike the occasional hemp woven dress or pair of vegan shoes, this socially and environmentally-conscious trend may stay, creating eco-friendly fashion benefits for the Earth, and the consumer, for a long time to come.
What makes clothing green? Eco-friendly fabrics, once difficult to find except for at a handful of niche stores, are becoming mainstream. Hemp, bamboo, and organic cotton are replacing synthetic materials and conventional cotton. Designers are learning the versatility, and efficiency of these sustainable linens. Hemp is a healthy crop for the environment, as it does not require the use of chemical pesticides and fertilizers, nor the massive amounts of water that cotton demands. The fibers are strong and durable, yet light-weight and easy to work with. Bamboo is one of the most sustainable crops on the planet, growing from inches to several feet a day. The fibers make soft, workable clothing, similar to cotton. Organic cotton is grown without the use of harsh chemicals. Other materials, such as silk and rubber are also sustainable.
Eco-friendly fashion is not merely the use of environmentally-sustainable fabrics, but the creative use of recycled materials. Chains can be turned into cutting-edge accessories. Recycled plastic and car tires can be used to make shoes. Old, vintage dresses can be remade and rediscovered.
Green fashion also implies socially and environmentally-conscious production methods. The less a material has to be processed and shipped, the better for the Earth. Natural dyes will replace synthetics. An eco-friendly product cannot be produced in a sweatshop. This will create a taste for simple, organic styles, made from efficient, worker-friendly means.
Benefits of Conscious Design
There are so many eco-friendly fashion benefits. In the short-term, consumers will have the opportunity to choose from a range of green products. Before this trend, people looking for earth-friendly clothing had few options. Now, as more designers start integrating eco-friendly fashion techniques, there will be more items to choose from. It will be possible to have an entire wardrobe made from sustainable and renewable materials, rather than just a dress and a pair of shoes.
Over time, consumers will also inevitably learn more about eco-options. Not everyone is aware of the negative effects of conventional cotton and synthetic materials on the environment. As the trend continues, so does the education and interest of the public. Awareness of environmental issues will increase, allowing people to make wiser choices in other areas of life.
What are the benefits for the environment? With a reduced use of chemical fertilizers, pesticides, and synthetics, there will be less pollution to the soil and water. With more efficient manufacturing, there will be less contamination to all the elements. By using recycled, and sustainable materials, the creation of clothing, even the hottest styles, will have less of an impact on the Earth. As everyone wins with eco-friendly fashion, hopefully these techniques will be more than a trend.
Resources
White Apricot https://www.whiteapricot.com/index.php
"Hemp Clothing." (Earth Easy) https://www.eartheasy.com/wear\_hemp\_clothing.htm
"Eco-Friendly Fashion Trends." (Super Green Me) https://www.supergreenme.com/go-green-environment-eco:Eco-Friendly-Fashion-Trends
Photo Credit
photo by: Bindarri (CC/flickr) https://www.flickr.com/photos/bindarri/4175435307/