Ideas for Repurposing Vintage Suitcase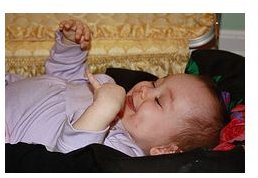 Have you ever noticed funky vintage suitcases at thrift stores, garage sales, or estate sales? They're cool, retro, and utterly worthless for modern travel needs. Surely SOMETHING can be done to repurpose them and save them from going to a landfill, right?
Okay, repurposing a vintage suitcase as a baby crib may not be the sanest way to go about this. How about trying some of these other ideas instead?
Filing Cabinet
Suitcase shape: rectangular, small to medium
Put an accordion file in a smaller rectangular vintage suitcase and stand it vertically next to your desk. When you open the suitcase, the file swings open along with it. This is a great way to manage and store temporary projects that use a lot of paperwork, such as when doing taxes.
Pet Bed
A vintage suitcase makes a great bed for small dogs. Cover a pillow or foam cut to size in a sturdy fabric and tuck it snugly into the suitcase. If the lid has storage pockets, as many suitcases do, dog toys can be stored there.
Medicine Cabinet
Yes, people have repurposed vintage suitcases into medicine cabinets. Stand it vertically on end and look: it's just the right shape. Insert some shelves, mount it on a wall, and you have a unique medicine cabinet that comes with a pre-installed door — the suitcase lid.
Side Table
Suitcase shape: any hard-sided suitcase
Any shape or size suitcase can be repurposed into a side table. Simply get a set of legs from a hardware store, or even better, from an otherwise-unusable piece of retro furniture, and attach them to the suitcase. A hard-sided suitcase works best for this project.
Jewelry Box
Take a small vintage suitcase. Cut some foam inserts (available at craft stores) to size and then cut slits in it and place inside the suitcase. Get a piece of fabric and tuck it over the foam and into the slits and voila, you've got a holder for rings. Attach small pegs to the inside lid and you've got a necklace holder.
Scrapbooking and Craft Supplies Organizer
Suitcases are designed for storing and hauling stuff that we usually use temporarily while traveling. A vintage suitcase can be used as regular storage for hobbies that use many little items, like scrapbooking. Tuck supplies in small boxes into the interior of the suitcase. Use the suitcase's built-in pockets for pens and markers.
If you're feeling more ambitious, glue a lightweight metal plate to the inside lid of the suitcase, and cover it in fabric. Now you have a surface that magnets will adhere to. Store beads, pins, brads, and other small supplies in small, magnet-backed tins with clear tops, and just stick them to the lid of the suitcase, and you suddenly have storage for all sorts of little scrapbooking supplies.
Finding ideas for repurposing a vintage suitcase is a great way to bring a retro feel to your home while keeping them from the landfill. Let me know if you try any of these projects and…keep living green!