Crafts Using Recycled Computer Parts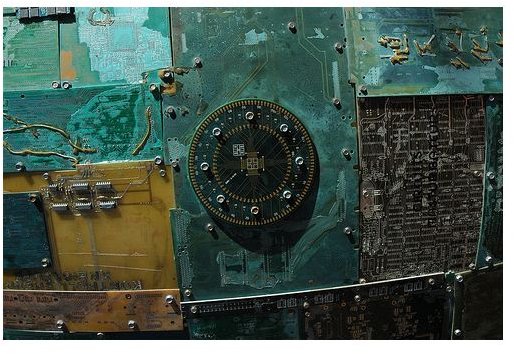 Tips for Recycling a Computer
Technology becomes outdated quickly and because computers become outdated, many are discarded each year. If the computer is still in working order, it can be offered to a friend, family member, or co-worker first. Perhaps someone without a computer can put it to good use. If the computer is no longer working, it can be dismantled and the individual parts can be used in recycled crafts. The battery should always be disposed of properly to protect the environment. To find out where to dispose a battery, contact BatteryRecycling.com.
Jewelry Crafts Using Recycled Computer Parts
Once the computer has been dismantled there are many small computer components that can be soldered for jewelry. Think earrings, bracelets, anklets, or necklaces. These small metal objects make unique, technology jewels.
The keyboard keys also make adorable jewelry and fashion accessories because they can be used to make words. Wire them together into bracelets, earrings, and key chains. The letters can be used to spell out words of significance and given as futuristic looking gifts to someone who will appreciate them.
Another part of the computer that can be used to make jewlery is the ribbons that connect the electrical components. Punch holes in these ribbons with a hole punch. Next, crochet through the holes using yarn and beads to make pretty bracelets or anklets.
Decorating Your Home with Crafts Using Recycled Computer Parts
The motherboard and computer chip components of a computer can be mounted on a sturdy board for interesting wall art. They can be painted, or simply left in their original colors. Collect several types of electric computer components and experiment with the layout by aranging them mosaic style until the right design emerges.
Smaller chips, electrical components, and keyboard keys can be glued to a frame to make an interesting display for a photo. Attach magnets to the back of the keyboard letters and place them on the refrigerator as art. More uses for the keyboard keys include making learning games for kids, placing them on cards, journals or in scrapbooks.
The larger monitors that accompany desktop computers can be hollowed out and used as a fish bowl holder. Place a fishbowl inside and watch the fish swimming through the screen! Also, the monitors can be filled with dirt and used to grow plants.
Computer Storage Devices in Crafts Using Recycled Computer Parts
External storage devices, such as compact discs (CDs) and floppy discs can be used to make crafts using recycled computer parts. CDs make an exceptional canvas, or background for a painting. CDs can also be painted with chalkboard paint to create mini message centers. Unwanted discs, both CDs and floppy discs, make unique party invitations. Write all the details for the party including the time, date, and location, on the disc. Finally, mail them out to the guests. Ensure all personal files are erased from the disc before doing this.