Can You Recycle Flip Flops? Learn the Latest About Recycling and Repurposing Flip Flops for Other Uses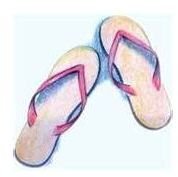 Can Flip Flops Be Recycled?
People all over the world love the open feeling of flip-flop sandals. Unfortunately, most of the older varieties have been made with non-recyclable plastics. These sandals contain polyvinyl chloride (PVC) and softening agents known as phthalates. Along with these two chemicals come heavy metals, such as lead and cadmium which when added to the PVC products make this sandal material carcinogenic to humans and toxic to plants and animals. Who knew? So, the answer to "can you recycle flip flops" is no to the majority of these older shoes.
If we were to recycle this polyvinyl chloride (PVC) or even polyurethane (which is a number 7 resin) the burning of this plastic can produce health hazards to people who live near incinerators. According to the World Health Organization (WHO), long- term exposure to dioxins (produced by the burning of PVC) can cause damage to the nervous system, immune disorders, and reproductive system dysfunctions.
As we have progress into greener living and an eco-friendly environment, new manufactures of shoes and sandals are following strict guidelines to the materials used in production. Okabashi shoes have been known for comfort and now one of the most recyclable shoes. They begin with raw materials and the end product is a patented recyclable plastic called Microplast. This material can be molded into a shoe without adhesives, an additive which makes recycling difficult. Okabashi shoes are durable and the company claims their flip-flops can last approximately two years. Once these flip-flops have seen their last days, they can be returned to the company to be recycled (grinded and blended into a new mixture) to make new shoes.
Shoes already made from recycled products such as rubber, bicycle inner tubes, or natural fibers like hemp or silk can be recycled again.
Flip Flops Can Be Repurposed
Flip-flops have become a global rubbish problem. They are found everywhere; along the coastlines, in bodies of water, clogging drainage systems, and not decomposing in landfills. So, maybe all flip-flops can't be recycled, but they can be repurposed.
There is one foundation near Kenya where their mission is to clean up beaches and oceans from pollution. This foundation, called UniquEco takes these discarded flip-flops that lined the shores of the East African Coast and turns them into new products. This solves two problems, not only does the collection of these sandals clean the environment, but it also employs local artisans who are in need of work. The people from this area have turned this waste into beautiful handmade products for sale. Such items as doormats, baskets, purses, toys, and jewelry. UniquEco uses the proceeds from these sales to fund environmental and social issues.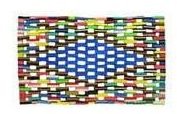 Bringing the idea of repurposing flip-flops closer to home are ideas from environmentalists and artists who have found creative ways to use discarded sandals.
They can be shredded to use in stuffing dog beds and outdoor cushions.
Shredded pieces can be used as packing materials.
Circles can be cut to use under furniture legs to prevent the scratching of floors.
Cut sections can be used under large appliances such as washing machines to reduce vibration.
Make doorstops by gluing a couple layers together.
Chunks or shreds can line the bottom of flowerpots for drainage.
Cut into shapes for children to use as stamps with inkpads or poster paints.
And a very crafty person could make toys from them!
As we become aware of our environment and choose to live a greener life, research and recycle as much as possible to avoid unnecessary pollution. And if a product cannot be recycled, then think repurpose. It's amazing how much trash can be turned into treasures!
Sources
The Complete Idiot's Guide to Green Living by Trish Riley [Penguin Group, 2007]
The New York Times; Recycling Discarded Flip-Flops by Sarah J. Wachter; https://www.nytimes.com/2009/12/08/business/global/08bogflip.htm
Green Living Tips; https://www.greenlivingtips.com/articles/227/1/Recycling-flip-flops.html
UniquEco; https://www.uniqueco-designs.com
Okabashi; https://www.okabashi.com/recycle.aspx
DIY Life; Unusual Uses: Flip-Flops–New Uses for Old Footwear; https://www.diylife.com/2009/10/05/unusual-uses-flip-flops-new-uses-for-old-footwear
Photo Credit
Doormat made from repurposed flip-flops; Mother Nature Network
https://www.mnn.com/the-home/household-products/blogs/behind-the-green-doormat