Environmentally Friendly Fast Food Restaurants: You Can Eat Quick and Eat Green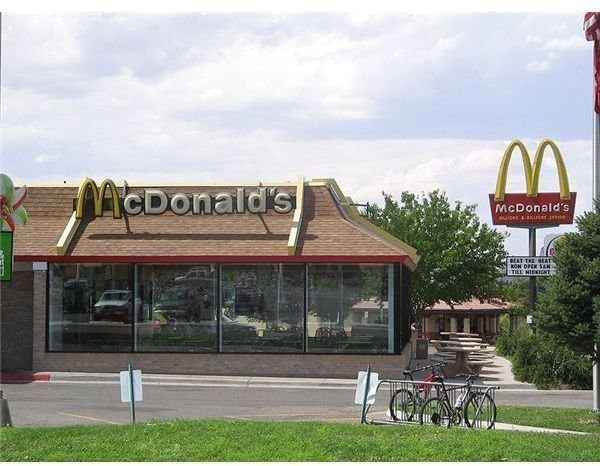 Efficient Use of Resources
The restaurant industry is one of the biggest consumers of electricity. Green fast food restaurants monitor their energy consumption and aim to ultimately reduce it. They use Energy Star rated appliances, energy efficient lighting and renewable sources of energy. Carl's Jr. has installed solar reflective roofing and LED lights in the parking lot at one of its restaurants. Water efficiency is also a major concern of environmentally friendly fast food restaurants. Introducing smart irrigation systems and making sure their plumbing fixtures and fittings are up-to-date are ways they are reducing water consumption. Fuel consumption is another area many restaurants are improving on. Domino's Pizza started testing electric vehicles for pizza delivery drivers and McDonalds is implementing a system to convert some of its used cooking oil into bio-diesel fuel.
Less Pollution
Due to the very nature of the business, fast-food restaurants need to use an extraordinary amount of paper products. Starbucks now uses coffee cups made of recycled materials. Burger King, McDonalds and Wendy's started using products made from processed chlorine free paper. Carl's Jr. is switching over to e-billing. One McDonalds has recycling containers in all of the dining and kitchen areas. Other ways fast-food restaurants are reducing pollution is by composting food waste, using biodegradable food service items, offering dine-in customers reusable dishes, glasses and utensils, and using recycled paper items that contain post-consumer waste. To obtain a certification from the Green Restaurant Association, the fast food restaurant must have a full-scale recycling program in place and not use any Polystyrene foam aka Styrofoam.
Organic Food
It has been stated that the overall greenness of a fast-food chain can be determined primarily on what type of food they are serving. Environmentally friendly fast food restaurants include menu items that are Certified Organic and non-processed; use beef and pork from grass fed, free range animals; and serve eggs from cage free chickens. In addition, locally grown is always best. The new chain Organic To Go was founded 5 years ago and is still expanding. Chipotle Mexican Grill serves free-range, vegetarian-fed meats.
Green Buildings
Large buildings like restaurants generate a lot of waste both during construction and operation. Environmentally friendly fast food restaurants are taking steps to ensure their buildings minimize their impact on the environment, the waterways and ecosystem. Many restaurants are also building spaces with lower ceilings to lessen its usage of heating and air-conditioning. Fast food restaurants are now purchasing eco-friendly furnishings and building materials. Options such as organic textiles, salvaged products, rapidly renewable materials and recycled carpeting are readily available today.
Environmental Certification
Obtaining certification from the Leadership in Energy and Environmental Design (LEED) or Green Restaurant Association (GRA) are two reputable organizations that provide stringent standards and requirements. Dunkin' Donuts, Chipotle, EVOS, and McDonalds are top contenders for achieving a high number of environmentally certified restaurants. One LEED certified McDonalds has taken it even a step further by installing a pollution scrubbing rain garden, LED-illuminated signs and permeable pavers. GRA certified fast food restauant chains include Le Pain Quotidien and Coffee Bean & Tea Leaf. In addition, all Pizza Fusion restaurants are LEED certified.
See Also
Green Restaurants Are For Everyone
Resources
U.S. Green Building Counsel - Leadership in Energy and Environmental Design
Green Restaurant Association
Photo Credit: Wikimedia Commons - Mckroes