Umbrella Crafts and Other Ideas for Reusing Umbrella Parts from Broken Umbrellas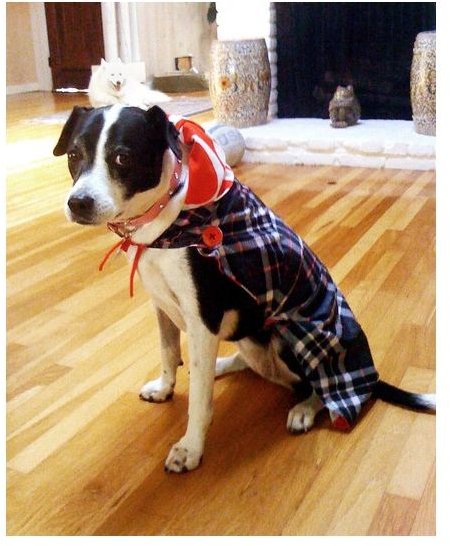 Broken Umbrellas-No Longer A Problem
Many items are becoming apart of the expanded green movement. Broken plates become mosaics, plastic bottles are turned into lamps and tires are reused to create shoes. Sometimes more unusual items are broken down and used for parts when creating new projects.
Some unusual items that have been added to the green project mill call for reusing umbrella parts. Not entirely reused in its full form, umbrellas are broken down and pieced out by part, having their various components reused for new items. A standard umbrella has thirteen base parts with part numbers increasing due to the stretcher. The stretcher is the spoke like umbrella part that can be increased or decreased depending on fabric size; there are normally no less than four stretchers in an umbrella design.
Millions of umbrellas are used and added to landfills each year around the globe. Because some umbrellas break during a heavy storm, many are even left broken outside and collected by local garbage collectors. In fact, most broken umbrellas are collected outside than are thrown in household trash.
With such an unusual item adding to the world's landfills, many people have begun to create green projects and crafts reusing umbrella parts in various creative ways. Here we take a look at several ways in which people have begun reusing umbrella parts and even a few ideas that you can use at home to get started on your own umbrella craft project. For more information on recycling items for crafty uses, check out Recycle Art Project: Recycled Pop Can Art and Recycle Plastic Bags: Making Plarn at Home.
Umbrellas as Fashion
One way in which people have reused broken umbrellas, is by stripping the fabric and creating water proof items from them. Jackets, hand bags and even doggie clothes have been designed reusing umbrella fabric.
The Recycling Zychal eco-company was created by Taryn Zychal, who first got into the business when buying a used umbrella at a thrift store because she liked the print. Upon returning home, she found the umbrella was broken so she fashioned a doggie jacket out of the material for her pet. Collecting more umbrellas she launched her own creative business in 2009 through Etsy and now makes her reused umbrella fabric creations for pets full time.
To the left is Taryn's 4 Toned Upcycled Umbrella Dog Rain Coat. You can check out her other umbrella fabric creations at Recycling Zychal (www.etsy.com)
Beyond cute and durable pet fashion, people have also made clothes for humans out of umbrella material. HIMANE is one design group who converts umbrella fabric into skirts, dresses and durable handbags. One of their most popular handbags created from an old umbrella is called the Go Bag. You can view this product and their entire collection from their main web page at: www.himane.com.
If you want to create your own umbrella fabric eco-fashions, a great site to visit with various patterns that can be converted is called www.Burda Style.com.
More Ways for Resuing Umbrella Parts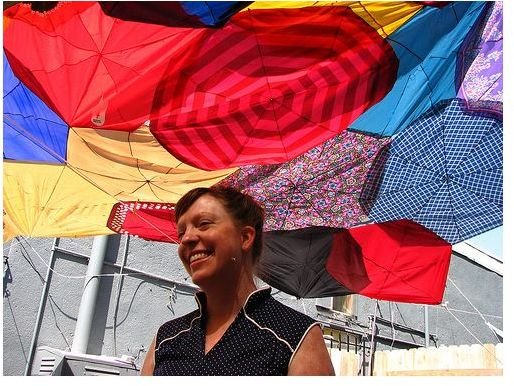 Beyond fashion uses, crafty people all over the world have been coming up with ways to reuse umbrella parts. From Craft: Magazine, Jessica Wilson created her own Upcycled Umbrella Tree for the holidays and offers full instructions for others to make this umbrella craft project.
Another featured project from Craft: Magazine is the creation of a summer time sun shade made from sewing umbrella fabric together; check out the instructions on how to make your own through Craft: Magazine's main website using keyword Umbrella SunShade.
*Sun Shade image courtesy of and © 2010 O'Reilly Media, Inc., for Craft: Magazine.