Crafts Using Silverware: Reuse Old Silverware to Make Crafts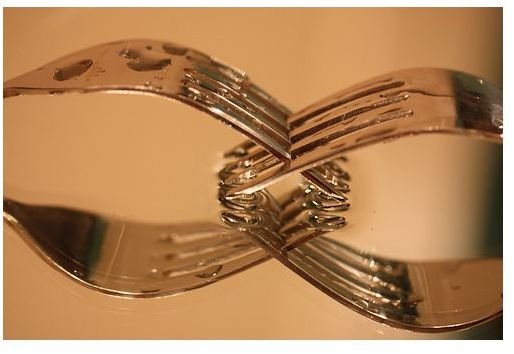 Choosing Silverware for Crafts
When it comes to choosing good silverware to accompany your best china, sterling silver is tops. And, if you wish to make crafts using silverware, you can use sterling silver or silver plated pieces for your projects. Sterling silver flatware is a pliable, forgiving metal to manipulate. Stainless steel on the other hand, does not bend easily; this metal is also resistant to dents and markings, and is difficult to drill holes through.
Many people have more silverware than they actually need or use. But if your silverware lacks great design patterns, check out a selection of newer or antique silver pattern pieces at garage sales and thrift shops. Forks and spoons are popular flatware pieces to use to make your own jewelry; knives tend to be heavier in weight, and less uniform in design.
Supplies Needed
Gather the following supplies to get started on your projects:
Rubber mallet - A rubber mallet is a hammer with soft rubber head for sizing, bending, or shaping silverware and jewelry. The mallet is used to pound the silverware on a mandrel.
Mandrel (or pipe) - A tool that bends silverware for crafts.
Hacksaw (or jeweler's saw) - You will need a saw (with fine teeth) to cut the flatware. Both types of saws are inexpensive.
Pliers - Use needle-nose, or round-nose pliers to curl and tighten jewelry, and to taper off cut ends.
A drill bit - A tool that drills holes into metal, wood, and glass.
Sandpaper - Use a fine grit to smooth rough edges.
Metal adhesive.
Fun Ideas for Silverware Crafts
Wall Hooks
Handy wall hooks can be made in less than fifteen minutes. Mark the flatware in the areas you wish to bend and affix to the wall. Bend those areas to 90° or in an L-shape. Drill a hole at the top of the hook and nail the utensil to the wall. You can also use this method make coat hooks.
Wind Chimes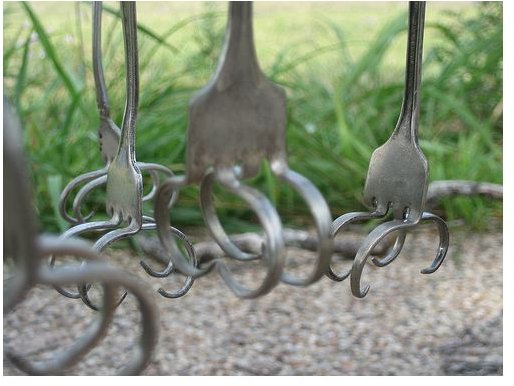 It is simple to reuse mismatched flatware and make fun musical projects like wind chimes. Begin by selecting a handful of your favorite utensils. Next, drill a small hole at the tip of each handle and thread a length of wire or yarn through each hole. Select an anchor (perhaps another utensil or a metal rod), and then poke holes in that anchor equal to the number of utensils. Use the wire to fasten the utensils to the anchor. Hang the wind chime at your preferred spot: a tree, patio, front door, or by a window and listen as the instrument chimes in the wind.
Napkin Rings
Imagine how nice your antique silverware will look once it has been transformed into napkin rings. It is up to you whether you use the whole utensil, or just the handle. If you prefer the handle only, select the part that shows the most detail and then cut to size. Bend the flatware over the mandrel, and that's it—you've created instant napkin rings. Make the napkin rings even snazzier by leaving the handle intact (without cutting it), and then continue to overlap the handle around the mandrel to create a spiral shape.
Drawer Handles
Create handles by bending the middle of small utensil into a soft C shape. Apply strong metal adhesive to the back of the silverware handle and press it to the drawer to affix.
Jewelry
Nothing is easier than making your own ornate ring from flatware. Choose a patterned area of the silverware that you like, and then cut off that area. Use the rubber mallet to bend the ring over the mandrel. Use pliers to taper the ends into shape.
If you're inspired to make more crafts using silverware, here are more suggestions:
door stops
pins
bracelets
tie clips
hair barrettes
picture frames
Image credits
The Top of the Windchimes, by ccarlstead
Four or two forks? by alles-schlumpf
Reference
DIY Network: Spoon Pendant - https://www.diynetwork.com/decorating/spoon-pendant/index.html
eHow: Make Jewelry from Silverware - https://www.ehow.com/how_4441319_make-jewelry-from-silverware.html
eSortment: Windchime Craft Projects - https://www.essortment.com/hobbies/windchimessilv_sbnm.htm