Green Efforts in Sports Today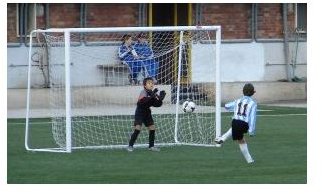 How to Go Green in Sports
When you or your child is out there kicking the ball into the net or dribbling the ball past an opponent, are there any eco friendly activities going on too? Even though soccer, basketball, football, etc. are just games, they can play a large part in people's lives, and if you challenge yourself at sports, you can challenge yourself to an eco friendly match as well.
Green Activities for the Team
Equipment is an important part of the game, but it doesn't mean that your team has to purchase new uniforms every year. Instead customize organic cotton jerseys that can be worn all season. You can also borrow knee pads, soccer socks and other gear from friends. Or check out your local thrift store or online sites for used items.
Another essential factor in sports is practice time. Instead of driving separately to the meeting place, plan a carpool. Then two or three people can be the drivers and contribute their green efforts while picking up and dropping off everyone.
Green Activities for You
When you're in charge of snacks or drinks, purchase ones that are packed with nutrition and have biodegradable packaging. If you end up buying plastic water bottles, be in charge of collecting everyone's empty bottle so they all get recycled.
In addition to buying more consciously, you can also make sure you don't litter and support earth friendly organizations. Maybe setup a donation box and dedicate your game playing to a certain environmental or animal organization.
Green Activities for Spectators
It's important as a spectator to recycle your trash and throw your garbage in a receptacle rather than on the ground. Also, avoid purchasing food in disposable containers and instead, bring your own snacks and beverages in reusable glass or plasticware.
Current Sporting Efforts to Go Green
The Grist named 15 sports stars that have gone green in some aspect or another. The list includes; Yao Ming for helping endangered species, David "Calamity" James for reducing his carbon impact, the Philadelphia Eagles for taking a "Go Green" initiative in 2003 and many others. You or your team can set an example like these professional athletes too, and you don't even have to go outside of your hometown. The Philadelphia Eagles started planting trees and reclaiming green space right in their home city.
Some teams are even joining forces to make a bigger impact. For example, in 2009, the Atlanta Braves and Coca-Cola launched a recycling campaign. In order to make their campaign successful, they added 250 recycling bins marked with the slogan "Give It Back." They also showed a short video clip that depicts that lifecycle of a 20-ounce Coca-Cola bottle. If fans didn't get a hint by then, they would when they saw Turner Field staff members wearing "Give It Back"-themed shirts featuring the Braves and Coca-Cola Recycling logos.
These examples show that green efforts in sports are happening on an individual and team level, but either way these efforts are providing a model for others to follow.
References
This post is part of the series: Environmental Effects of Recreation and What is Being Done
The games we love can affect the environment. Find out how, what is being done in sports and recreation and how you can make a personal change.