Types of Eco friendly Camping Trailers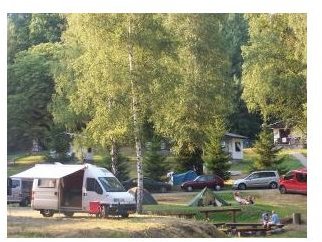 What Makes Camping Trailers Eco Friendly?
Find an inexpensive and sustainable way to travel across the country can seem close to impossible with the rising gas prices, airplane tickets, accommodation costs, etc. However, when you have a home on wheels, the expenses can be considerably reduced. Your dream of traveling can become one of reality by purchasing an economic camper.
There are a few characteristics to keep in mind when looking to purchase eco friendly camping trailers. First, you want to take into consideration the fuel. How many miles per gallon does it get? Are there any campers that use alternative sources of energy for fuel (solar energy, chargeable battery, etc.)?
Second, you want a mobile home that has been made from sustainable materials. Is the flooring reclaimed or made from bamboo? Does it include an efficient washer/dryer set? What is the cabinetry made from? But you can still purchase ones made from aluminum, steel or wood as long as you plan on recycling it at the end of its lifespan.
Third, don't forget that you can add your own earth friendly amenities. If you have the option to customize or you can renovate an older model, choose efficient appliances and organic fabrics for the bedding and upholstery. Also, consider using a composting toilet on your travels.
The Best Eco Friendly Camping Trailers
According to The Daily Green, there are a few campers that do well at meeting basic green requirements. This includes the following models: Tonke Camper, Airstream Safari Sport, Lodge-on-Wheels, Dodge or Freightliner Sprinter and the EarthRoamer XV-JP. All of them are at different price ranges, and they have features that make them uniquely eco friendly. Another option is the Keystone RV Company, which claims to be number one in retail RV sales in North America.
There are several brands and models to choose from, but with any of them, you will be reducing your water, electricity and heating fuel usage. The best eco friendly camping trailer will be one that fits within your budget, satisfies your eco friendly wants and provides you with the opportunity to live and travel in a functional way.
Where to Buy Campers
Since there are endless types of models and there will only be more available in the future, it's best to start your research online and do some comparison shopping. Then you can go into a local dealership with extra knowledge, which can help you get the most sustainable model at a budget friendly price.
Some additional RV retailers include: Monaco Coach, Winnebago, Fleetwood and Coachmen RV.
References