Create an Eco Friendly Baby Registry and Why an Eco Baby Registry is Beneficial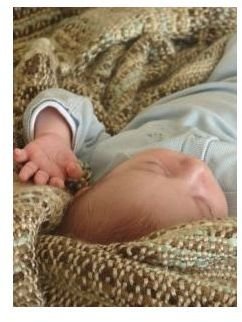 The Benefits of Eco Friendly Baby Products
Are you expecting a baby? Well, within nine months your world is going to be turned upside down. Instead of waiting until the last minute to figure out what you need, it's best to do the research and comparison shopping now while you still have some peace and quiet.
Baby showers are an effective way to get the basic items you need for your baby, which will get you started and help you keep some money in your wallet for odds and ends that you will need later. However, by creating an eco friendly baby registry, your friends and family will get more bang for their buck.
For example, there are 3-in-1 cribs available, which go from crib to daybed to toddler bed. This means that you will only have to buy an adult bed when you're child's tall enough for one. By add a bed like this to your registry, your waste will be reduced and your baby will be set with a bed for a few years.
So how do you create an eco friendly baby registry?
How to Create an Eco Friendly Baby Registry
It's easy to become overwhelmed by all of the baby products out there, but if you do the research, finding eco friendly baby products isn't the challenge. The best way to tackly your baby shower registry is to start with a list of items that you need such as biodegradable diapers, BPA free baby bottles,
Fortunately, there are several eco friendly baby stores online, so you can register for your products within the comfort of your own home. If you prefer to go this route, check out Our Green House, Naturally Good, Green for Baby, Naturally Trendy, Baby Earth, Newborn Mom and Pure Bebe.
Another option is to start perusing your local stores and baby boutiques. As long as you're able to get around with your belly, do some hands on eco friendly shopping. Although online shopping is convenient, going to the store can ensure that you're picking the best item, because you can feel it, see it and thoroughly read the label. Most stores have a UPC-scanning registry system, so you can walk around with a scanning device and point to the UPC codes of the products you want added to your registry.
What to Look for in Eco friendly Baby Products
When you're assessing and comparing baby products, it's important to consider three things:
Is it safe for my baby?
Is it functional (does it have longevity)?
Will it reduce my waste and expenses in the long run?
Often times sustainable products are safer for your baby, because they don't contain harmful chemicals. For example, organic cotton bedding is better because it's pure and doesn't contain residual pesticides.
By choosing more functional items that take your baby into toddlerhood, you will save more money. For instance, bottles are necessary, but you can buy a set that is compatible with a sippy cup converter kit.
Creating an eco friendly baby registry simply involves more thought and research on your part. However, the extra effort will keep your family sustainable with extra money in the bank too.
References