Definition and Samples of an Herbal Garden Mini Greenhouse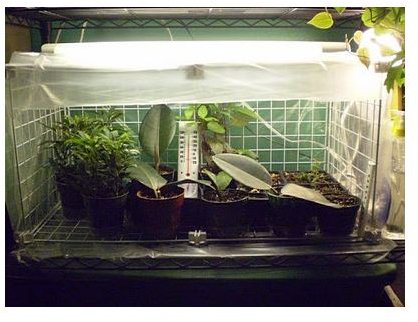 Define Mini-Greenhouse
The term "mini greenhouse" has a very broad definition, but basically encompasses a green house you can have inside your home which is too small to walk into. Most of the time, this means a greenhouse which is small enough to fit on a counter or table. With the growing popularity of mini greenhouses, an herbal garden mini greenhouse is a great addition to your home or can make the perfect gift.
Mini Greenhouse Samples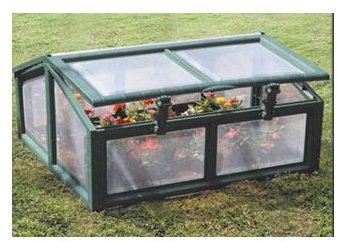 Obtaining a Mini Herbal Greenhouse
There are really two ways to go about obtaining a herbal mini greenhouse. You can buy a pre-made one, which normally comes with everything you will need to get started including directions. Or you can build a mini greenhouse, which may require a bit more time and creativeness, but can save you a lot of cash.
Prices for a pre-made mini greenhouse range from $40 to $200, with the $40 dollar range lacking quite a bit in features and styles. An herbal mini greenhouse is a fantastic idea for anyone that cooks and likes to use fresh ingredients, but sometimes the average price of $80 for a decent mini greenhouse seems out of reach. Plus, making your own could actually be a great way to recycle and help the planet, so there is not too many reasons to actually buy a mini greenhouse.
Building
To build your own herbal mini greenhouse, you could go out and buy lumber and glass and all the tools you'll need, or you could simply use recycled materials you might already have in your home. It really all depends on the size you want the greenhouse to be. The best mini greenhouses are big enough to fit a few different types of plants, but still fit on your counter or table. This will make them super easy to maintain, and they'll simply take up less space.
Instead of using pots for your herbal mini greenhouse, use old soda bottles and milk jugs. Cut the bollte in half using scissors or a razor, then flip the top upside down and place it inside the bottom. If you'd like to aerate, you can poke 2 -3 holes near the cap using a pen, and then line it with mesh to keep soil from spilling out. Then you can fill these with soil and plant some seeds! You can even paint these for a more attractive look, especially if this will be in your home.
Soda Bottle Planters Example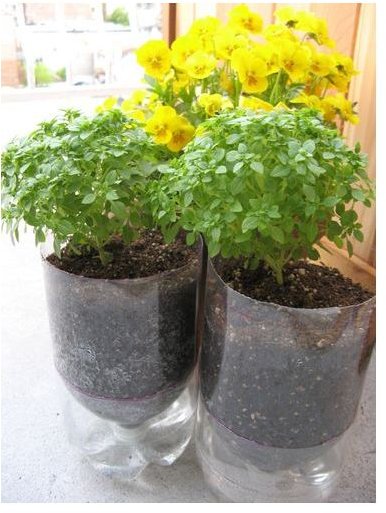 Display Case
For the greenhouse, you could buy a glass display case. These can run you $40 all the way to several thousand dollars. But I am always looking for a bargain, and found a large fish tank at my local thrift store for $6. I bought the lid (or hood) separately for another $15 and voila! An almost-instant herbal mini greenhouse. You'll want to clean the "greenhouse" thoroughly before moving your planters into it, especially if it is new. My mini greenhouse, which I believe to be a 30 gallon tank, holds two milk jug planters and five soda bottle planters. It has sat on the kitchen island counter for the past couple of years, and thrives very nicely with little upkeep.
Maintaining Plants
Maintaining the plants in your mini greenhouse is not much more difficult than following the directions for each plant (normally listed on the paket of seeds of the tag on the plant). You will not have to worry about weeds in your mini greenhouse, but you may have to watch out for a bit of mold. To combat this, I've found it useful to air out the green house for about 30 mins at least three times a week. I also have a friend who owns a nursery that gave me this tip: Have a solution of 30% peroxide and 70% water in a spray bottle. Mist the whole greenhouse with this solution once a week to kill bacteria, mold, and fungus.
If you decide you'd like to change up the plants in your herbal mini greenhouse, it is very simple. If a plant or two are just not growing, just replace the soil and seeds in your planter. If an herb is growing but you'd like something different, you can simply make a new planter with a new herb in it and replace the old one. What you do with the old planter and herb is up to you, but they can always be stripped and dried, or given as gifts.
Types of Herbs
Herbs are one of the easiest types of plants to grow indoors. For that reason, an herb greenhouse is a fantastic idea. You can plant almost any herb you'd like. None of them take up much space, and they are all pretty easy to grow. Many of them are very aromatic, too. So be sure you plant herbs you actually like to cook with and like the smell of. Some of my favorites are:
-Basil
-Chives
-Rosemary
-Mint
-Savory
-Thyme
-Lavender
In the past, I have also grown small tomatoes in my mini greenhouse, but I have since removed them because I've planted larger ones outdoors.
Images