Should I Buy a Mini Greenhouse? How a Small Greenhouse Can Work For You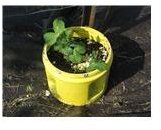 Whether you are a novice or master gardener, investing in a greenhouse allows you to plant more fruits and vegetables in less space.
You get larger harvests for the least amount of time invested. Even a postage-stamp sized yard can accommodate a low profile compact greenhouse and offer a climate-controlled pest-free environment for gardeners of any expertise level. As a bonus, you can feel good about serving your family healthy foods that are pesticide-free.
Now is a good time of the year to evaluate your situation and needs and answer the question, "Should I buy a mini greenhouse?"
Size and Style
A huge advantage of mini greenhouses is their space-saving size. With the wide range of models that vary in size from teeny ones no larger than enclosed cold frames to ornately designed styles that rival traditional full-size greenhouses, there is a style to suit the most avid gardener.
Some smaller models are designed exclusively to be indoor greenhouses. Other styles can be used inside or outside. Gardeners can take advantage of these sizing options and have more than one plant house if they choose.
They are cheaper because of their smaller sizes, easy to assemble and maintain, and require little or no off-season storage space so mini greenhouses are a budget-friendly option for families who want to eat more home-grown garden fresh fruits and vegetables. A small investment in a compact greenhouse pays big dividends in larger healthier harvests, better nutrition and extended growing seasons.
Price and Maintenance
In general, mini greenhouses range in price from as low as $9.99 to $240 or higher. Most of the cost is front-loaded into the purchase price of the building, plants and accessory items like trowels, spades, plant food and insecticides. Normally, these types of garden structures tend to be low maintenance in terms of repairs and other upkeep.
There are usually no windows to break, and the small-size profile stabilizes them in extreme weather conditions such as tornadoes or hail storms. On the downside, because the construction materials may be flimsy or of lower quality than those used in the construction of full-size greenhouses, compact plant houses have shorter life spans than conventional greenhouses.
Poor quality construction drives the total cost of owning a mini greenhouse up especially if the building's integrity is compromised during severe weather and crops are damaged or lost. What if the building must be replaced after only a few seasons, or rare, exotic plants are killed? These are concerns to consider before deciding to buy a mini greenhouse.
By comparing the various features of a grow house such as size, total price, style and maintenance, a gardener can easily decide if purchasing a mini greenhouse is a good fit. Researching the facts gives you all the information to make an informed decision.
References