Wine Cork Crafts: Find Ideas on Recycling Wine Corks Into Decorative Crafts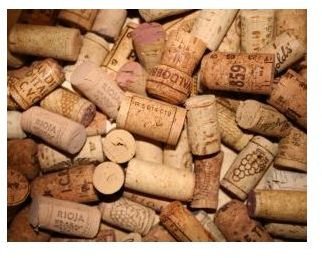 Christmas Tree Cork Garland
You've heard of stringing popcorn to make a garland for your Christmas tree. Why not do the same with your leftover corks? Throughout the year, save each cork from bottles of wine you drink and ask friends and family to do the same, or make friends with a local bartender who will save some corks for you. By the time the holiday season rolls around, you'll have plenty of corks to make your garland. Use an ice pick and hammer to make a hole through the cork, being careful not to split it. Thread a large tapestry needle with twine and string each cork. String decorative beads between each cork to space them out.
Wine Cork Wreath
For the holidays, you can also use wine corks to make a decorative wreath for your front door. Use pins or straightened paper clips to attach corks together to form the round shape of the wreath. You can also use a donut-shaped foam backing to glue your corks in place. Accentuate your cork wreath with sprigs of holly, red berries or a ribbon.
Wine Cork Board
You can purchase a cork board, but why not make your own? Find a picture frame that it is at least a half inch deep with a solid backing. Glue corks to the backing sideways. Create a pattern such as a basket weave, crosshatch, or simply make even rows. Fill the entire frame with corks and allow to dry throroughly. Hang the frame on the wall and use push pins to attach notes to the cork board.
Cork Placecard Holders
Before your next dinner party, collect a few corks and cut slits in the end of each one. Make placecards for your guests and use a cork to display each one. Your guests will be impressed with your whimsical placecard holders, but they cost almost nothing to make.