Ideas to Recycle Old Wine Bottles Into Decorative Crafts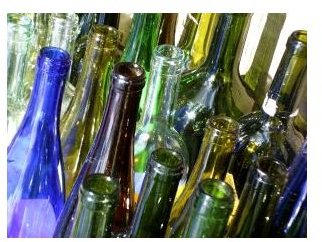 Instead of throwing away your wine bottles try upcycling them into some fun, decorative crafts!
Make Your Own Drinking Glasses
Transform your empty wine bottles into a set of drinking glasses. Simply cut the top of the bottle off at the desired height and polish the edges to prevent injury when drinking from your new glasses. Purchase a glass cutter or a specialized bottle cutter that will create an even score around the bottle that will form the lip of the glass. Use strong grit sandpaper to smooth the lip or try Dremel sanding attachments to speed up the process. If you are feeling especially crafty, you can etch your initials or a design into the sides of your glasses.
Let There Be Light!
You can quickly and inexpensively transform a wine bottle into a light source. You've probably seen this effect at a romantic, candlelit restaurant: simply place a narrow candle in the opening of the bottle, light it and then let the wax drip down the sides of the bottle. The more you light it, the more beautiful your bottle-turned-candleholder becomes. If you prefer less mess, convert your wine bottle into an oil lamp.
Another option is to purchase a small string of Christmas lights and push the lights through the opening. Plug them in and you have an instant, festive lamp! This project makes a great gift; dress it up by tying ribbon around the neck of the bottle. Light-filled wine bottles can be displayed at Christmas, as party decorations or used year round. Colored lights look seasonal, while white lights are more subtle.
Decorate with Recycled Wine Bottles
While drinking glasses and lamps are functional wine bottle crafts, you can simply use wine bottles as decoration. Paint them with acrylic paint and use them as vases for single flowers. A grouping of an odd number of bottles makes an excellent centerpiece for the dining table. You can also fill your wine bottles with items such as sand, seashells or pebbles that you have collected on vacation.