Waterless Washing Machines by Year 2011- Providing Solutions to Our Environmental Problems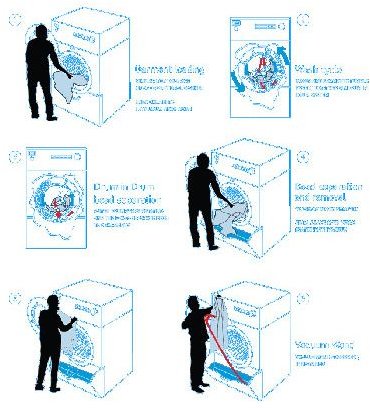 How does the Waterless Washing Machine Work ?
Now here's, the good news. A virtually waterless washing machine is on its way to hit the market by the end of 2011. This new concept in washing machines require only about a cup of water and will rely on 3-mm long nylon plastic beads complete the clothes washing cycle.
Professor Stephen Burkinshaw, a textile chemistry professor at the University of Leeds discovered that a certain type of nylon polymer bead had an inherent polarity that can extract dirt out of a fabric using a little amount of water. It is said to keep whatever dirt gathered locked-in at the beads' nucleus. Professor Burkinshaws' polymer beads are said to be reusable for a great number of times before reaching their saturation point.
The clothes washing process is practically waterless as it uses only one cup of water. Hence, the carbon footprint associated with water and electricity consumption as well as water run-off pollution will soon be provided with a solution.
Cambridge Consultants, one of UK's top developers of breakthrough innovations, was hired to prove the efficiency of the polymer beads. If the product is found efficient and commercially viable, their team will come up with a solution on how the beads could be removed to end the clothes washing cycle. In six months time, Cambridge Consultants came up with a prototype of the washing machine, which was initially called a "virtually waterless washing machine". The results boasted of clothes that were cleaned with equal efficiency as those washed using the traditional methods.
Xeros Co, was created to handle the production of the "virtually waterless washing machine", founded by no less than Professor Stephen Burkinshaw himself. It is backed by £500,000 investment provided by the IP Group. Part of the company's projections will include extending licenses to domestic manufacturers of washing machines.
Xeros Company has also partnered with the Kansas City-based GreenEarth Cleaning in line with their move to initially target commercial establishments like hotels, high-end washing outlets and care homes. GreenEarth Cleaning is the prime innovator of dry-cleaning without perc; which makes use of an eco-friendly dry cleaning method using liquid silicone, or decamethylpentacyclosiloxane also known as D5.
Environmental Impact of the Waterless Washing Machine
A top-loading washing machine is said to consume as much as 40-gallons of water while the front-loading type uses up 10-24 gallons of water in every wash cycle. In addition, electrical consumption is estimated at 7¢ to 34¢ per load, depending on the amount of water used.
Xeros Company hired an independent Life Cycle Assessment company to support the waterless washing machine's claim for being environmentally friendly. As expected the report gave credence to the machine's ability to reduce the Earth's carbon footprint. Based on independent assessments, the waterless washing machine is capable of creating an impact equivalent to two million cars taken off the road. That is for the UK alone; hence, worldwide benefits can be expected to be greater.
If you're in the business of providing laundry services, you may want to start setting aside your investment funds for this waterless washing machine. To find out more on how this cost-saving washing machine works, readers will find a demo video at the Xeros news site at https://www.xerosltd.com/xeros-marketing.htm. .
Image Source Courtesy of www.greenerdesign.com