Christmas Tree Recycling: Find Out How to Recycle Your Tree This Holiday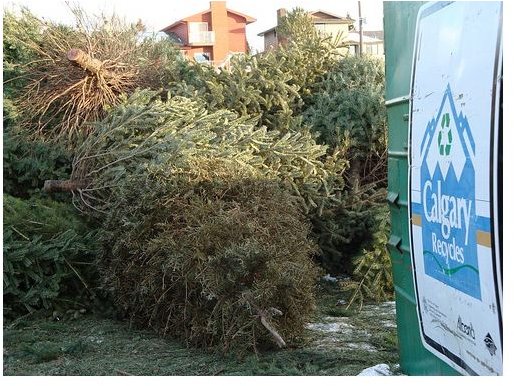 The Importance of Recycling Trees
Christmas tree recycling is vital so millions of douglas firs and blue spruces are not wasted every year by being thrown away only to increase the space used in local landfills. Instead, they can be utilized to their fullest potential through local recycling services.
Over thirty million trees are chopped down every year to be decorated and enjoyed during the holiday season. Once cut down, tree farmers generally plant new trees. Re-planting combined with practical methods of reuse makes these evergreens a renewable resource, much more environmentally-friendly than artificial trees, which are made with synthetic materials which eventually end up in landfills.
Recycling holiday trees is a way of continuing to appreciate their value. Trees are rich in nutrients beneficial to the earth, making them perfect for restoring and stabilizing a variety of habitats, such as lake and shorelines, beach-fronts, and river delta beds. Their placement can help prevent shore erosion while at the same time providing nutrients into the ground. They can also be made into wood chips for minimal cost and work effort. Recycling the trees into wood chips offers an inexpensive source of material for public trails and schools, private landscaping, or even to cover landfills. They are a safe and organic substance to use for children's playgrounds and as a ground cover for orchards.
How to Recycle Your Christmas Tree
Recycling can be as simple as placing a used tree with the other recyclables within a period of two weeks after the holidays. Most counties across the country offer free tree recycling pick-up services along with normal recycling. There are often requirements and time limits so be sure to check with your local service. Usually the trees can only be a certain size, so larger trees may need to be cut in half. Furthermore, all decorations and inorganic material must be removed from the trees before setting them on the curb.
To find out how to recycle Christmas trees in your area, check with a national service such as Earth 911, which lists available services in local areas. If the county does not provide a free pick-up, check with local non-profits such as Boy Scout troops. They may collect trees to be recycled for local projects. This is usually a free service, but donations are appreciated. A third option is to simply drop a tree off at the local recycling center; generally, this is allowed for no charge. Call your local facility to find out. If there are no outlets for properly disposing of a used tree, you can always chop the whole tree into smaller parts and use for personal compost.
Have an eco-friendly holiday this year and make sure your Christmas tree is recycled properly. Also, read to learn about recycling your Christmas lights as well.
Sources:
photo credit: DMJarvey