Solar-Powered Toys: Educational Christmas Gifts for 10 Years Old & Above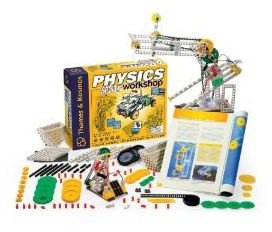 Economical Christmas Gift Ideas for Kids
Since Christmas will soon be just around the corner, you may want to start early in looking for low-priced Christmas gifts for kids. Consider giving not only solar powered educational toys but also informative kits for wind power experiments. They prove to be not only eco-friendly and economical but educational as well.
Kids will actually have the experience of harnessing energy derived from the sun and wind; hence, gaining a better understanding of the alternative energy concept. Encouraging our kids to develop more interests in informative kits about alternative and renewable energy like wind and solar power, will also mean less demand for recharging batteries that consume additional electricity.
Below are some examples to help you visualize how interesting these wind and solar powered toys are. They are recommended for kids ages 10 and above:
Latest Models of Educational Do-it Yourself Solar Powered Toys
**
Thames and Kosmos Physics Solar Workshop $54.95
In all probability, a child's interest in matters of science like physics, kinetic and renewable energy can be tapped. Young minds are always fascinated by motion and how certain devices like photovoltaic batteries can make them move.
What does photovoltaic mean? Instead of just supplying the answer to a curious young mind, this educational toy will show him exactly how photovoltaic batteries work. He will be amazed at how powerful the sun's rays could be.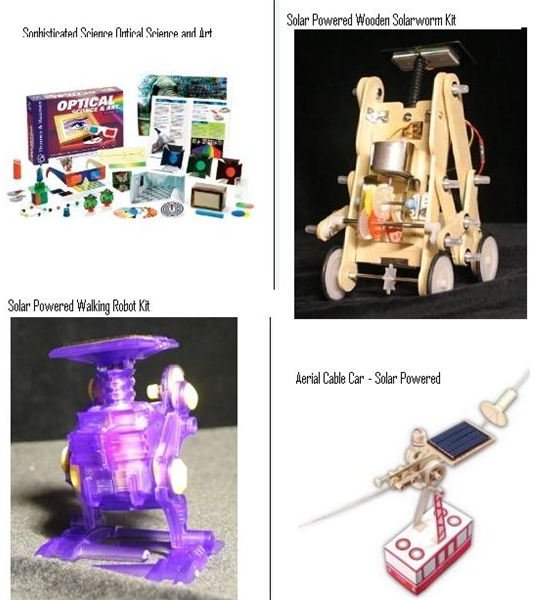 However, there are kids who are not as inclined to go into scientific experiments as the others, but would rather get into the business of playing right away. You can find other solar powered toys, which could help in developing their interest in learning. Remember how we eventually came to a point of getting bored with our toys' repetitious motions? It made us curious as to what makes them work or what seems to be inside.
Kids will have a perfect example on how solar power technology uses light derived from the sun as its source of renewable energy. Any 10 year old would love to learn how photovoltaic batteries work.and how economical it is. Relying on batteries, whether traditional or rechargeable, happens only if the sun doesn't come out to shine .
This educational physics solar kit includes models for elevator, fan, airplane, drawbridge, construction crane, treaded vehicle, car, truck and tractor. It is also suggested that the child be encouraged to form his motorized vehicle using his own creative concepts. This is why this educational toy won the Silver Honor as the Parent's Choice award.
Note: Please find the links to the other solar powered toys in our Reference Material and Image Credit Section.
Elenco Solar Deluxe Educational Kit $14.31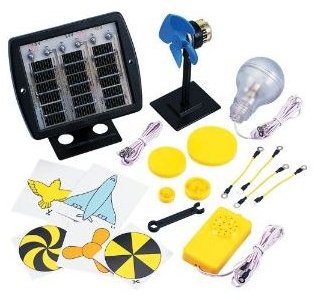 Starting with the easy to assemble build-it-yourself toys, young minds will now get hooked into exploring more about robotics and how it can be put into action using different types of energy. During their younger years, fathers and grandfathers had their kind of assembly kits. In fact, most of them were hooked into building model trains and airplanes, which later developed into mechanized models not only of locomotives and planes but also of racing cars and anime creatures. The trend in toys today is about robotics and this Solar Deluxe Educational Kit by Elenco provides a form of starter set.
Again, the main component is a solar panel, which will be used for do-it-yourself science experiments. There are instructions on how simple parts can be utilized and put together to build functional devices powered up by the sun's electromagnetic radiation. In this set, the electromagnetic radiation will be collected in a larger version of the solar panel by using several 5VDC solar cells.
The educational solar kit includes pre-wired 5VDC solar cells in sets of 3 and mounted in black-plastic frames; a fan blade and (4) plastic discs to be mounted on the motor shaft; an incandescent bulb with leads and graphic cards to mount on the discs. These pieces will be used to make a small fan, or power up a radio or turn a light on. The experiments will teach the young learner the basic principles of alternative energy and how electrical or solar circuits are made.
Discovering Wind Power via Educational Do-it-Yourself Toys
Thames & Kosmos Alternative Energy and Environmental Science Wind Power $44.99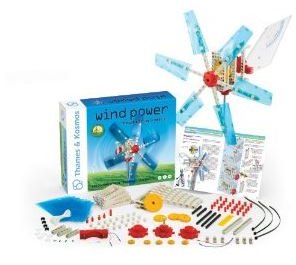 Let your child explore the concepts of alternative and renewable forms of energy through wind power. This educational kit could expand a 10-year old kid's knowledge of how the wind and its powerful strength can also provide an alternative source of energy. That it is renewable because you can use the power repeatedly without having to discard anything.
Playing with the toy assembly involves setting-up a wind turbine along with its attachments: the electric generator, the wind speed indicators and the rotors. The rotors come in different sizes since the fun part of this toy involves conducting more than 20 experiments on how wind power works. The different rotors will also vary in shapes and angles and your child will discover how such changes could cause a change in speed.
Math becomes play as well because this is one way of showing the young learners that learning mathematical equations and solving formulas are part of our everyday lives. The kit includes learning material about the physics of force and motion as it imparts knowledge on how to calculate and measure the force to be applied in order to attain the speed desired. The manual is fully illustrated and in color so as not to make the young learner feel that he's into reading textbook materials.
Educational Toys for Girls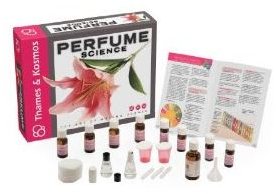 Sophisticated Science Perfume Science by Thames & Kosmos $53.90
As more people became environmentally conscious, particularly housewives, they also learned how to concoct home made remedies, solutions and potions for safer alternative choices. As we became aware of all the harmful chemical ingredients being added to household as well as personal care products, we resorted to making our own concoctions of natural ingredients.
Now here's an educational toy that could, likewise, tap the business sense in a young girl's mind as she explores the world of flowers and how it furnishes the scent for most perfumes and other cosmetic products. It's an assembly of laboratory implements to use, as you and your child work together in experiments about scents and fragrances. It's a comprehensive source of information on how to train one's sense of smell to come up with perfume variants. This is one way to gain practical knowledge made easy since both you and your child will experience it through recreational play.
Reference Materials and Images Credit Section:
Reference Materials and Images are all courtesy of Amazon.com.