What are Solar Lanterns? Applications of Solar Energy. Applications of Renewable Energy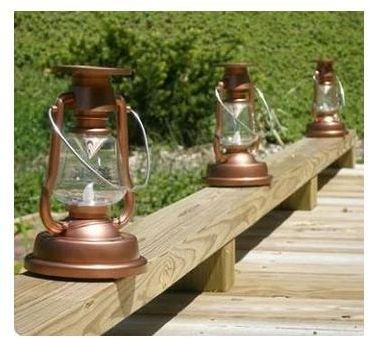 What are Solar Lanterns
Solar lanterns are portable source of light that can produce light free of cost from the solar energy. The solar lanterns absorb solar energy during daytime and produce light at night time or whenever and wherever required. They can produce the light for 8-12 hours depending on the type of lamps used and size of the solar collectors. One very important advantage of the solar lanterns is that they don't require any wiring; hence they can be easily placed or hanged at any place, but of course, they should be exposed to the sunlight for charging. The solar lanterns are also being used extensively as the decorative lamps with different shapes and colors.
Solar lanterns with kerosene lamp look:
---
These are one of the most widely used solar lanterns with the looks similar to the old kerosene lamps. They are covered with PVC plastic to avoid breakages. These are portable solar lamps that can be moved easily from one place to the other and they can be kept or hanged at any place.
Solar Lantern from EXTERIOR Accents
Solar powered outdoor lamps
---
These are outdoor colorful lanterns that add to the beauty of your house during the normal days as well during festive seasons. These lanterns are available in various shapes and are equipped with the LED lamps that produce beautiful glow of light at night. They can be hanged at any place of convenience like gallery, garden, terrace, etc without any hassles of the wires.
Solar Lantern from EXTERIOR Accents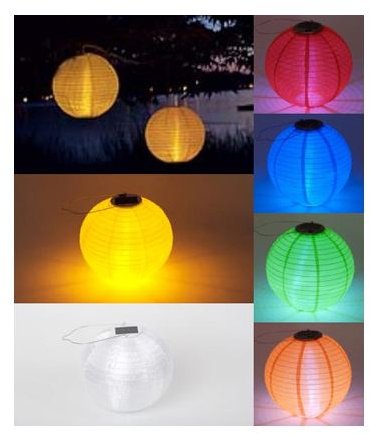 Hanging Solar Lantern from IMPROVEMENTS:
---
These are the handsome elegant looking solar lanterns having old world look. The hanging type of solar lantern radiates candle like glow adding a touch of romance to your yard or garden. This lamp is accompanied with the shepherd's hook that can be fitted at any place on deck, fence post or table.
Hanging Solar Lantern from IMPROVEMENTS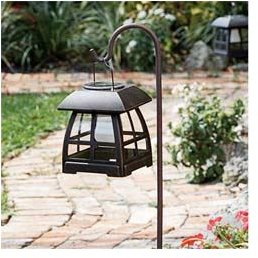 Solar powered Floral Lantern:
---
The uniqueness of these solar powered lanterns is that they are fitted with stained glass panels. When the lamp is started, jewel like colors are radiated in the whole surroundings.
Solar Powered Floral Lantern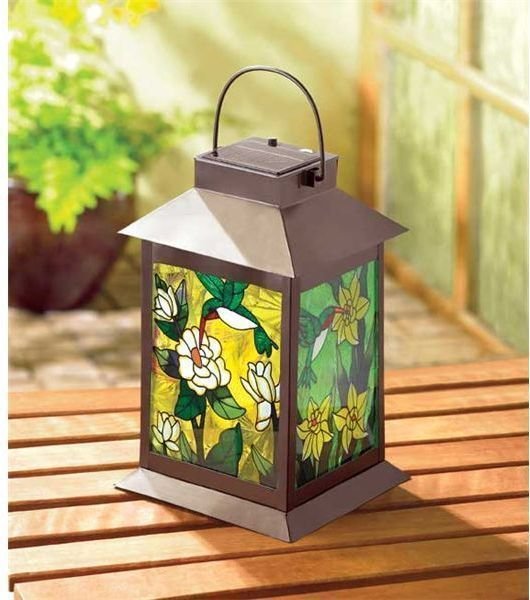 Soji LED Solar lanterns:
---
These are round lanterns with LED specially meant for the festive seasons. They are made up of durable fade and weather resistant nylon ensuring that they can be placed in any outdoor conditions.
Apart from these many other models of the solar lanterns are available in the market. It is indeed great news that solar energy is making inroads to the common applications like lanterns on such a large scale basis. In the countries where power supply is continuous the solar lamps are very useful and they are being used in various innovative ways, but in countries where there are frequent load shedding and in far off places the solar lanterns are vital for day-to-day life. In fact the solar lanterns are a boon for the villages where there is no supply of electricity at all or for the places that are far away from the main power grid.
SOJI LED Solar Lamps
References
Related Readings
Applications of Solar Energy: Part-6: Solar Lanterns
Applications of Solar Energy – Part-5: Solar Thermal Power Plants
Applications of Solar Energy: Part-4: Solar Street Lights
Applications of Solar Energy: Part-3: Solar Photovoltaic Cells
Applications of Solar Energy: Part-2: Solar Cooker
Applications of Solar Energy: Part-1: Solar Water Heater
Renewable Energy Sources: Solar Energy: Part-1
Sources of Energy: Renewable and Non-Renewable Sources
What is Energy?