Pellet Wood Stove: The Best Heating System for Home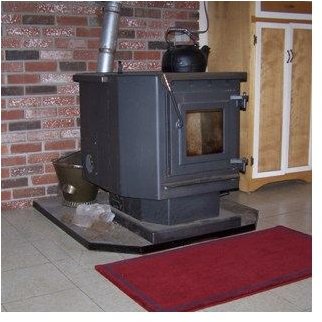 What is a Pellet Wood Stove?
A pellet wood stove is an eco-friendly heating system that makes use of wood pellets instead of logs as fuel. These pellets measure about half an inch long and are made from saw dust, wood shavings and other sawmill by products. The stove is constructed from thick metal but is quite compact and cost-efficient. To make sure you're purchasing the right pellet wood stove, the unit you're about to buy should bear a permanent "U.S. Environmental Protection Agency" label. This indicates that the stove underwent EPA accredited laboratory testing and meets the updated standards for wood burning emissions.
Types of Pellet Stoves
Pellet stoves may come in the form of freestanding units or as inserts to modify an existing wood stove, to avoid the cost of buying a new one as an upgrade to a non EPA certified stove. Pellet stove inserts may also be installed in an existing vent system of a home to provide heating effect for the entire structure.
Other types of pellet stoves are equipped with a system that fans the heat to spread out inside a room or a floor level, depending on the stove's heat range capacity.
Like any other product, this type of wood stove appliance has its advantages and disadvantages; perhaps you should check them out first.
Advantages of Pellet Wood Stoves
Pellet wood stoves are quite safe in as much as the stove itself has no heat on its external surface. Children and pets are relatively safe from accidentally searing themselves against the metal fixture. This also allows the placing of the stove close to the wall by a distance of at least an inch in between.

The said stoves have no smoke emissions and do not produce any unpleasant smell or aridness.

It is said to have 75% to 90% burning efficiency producing only minimal moisture; hence, very little gas output combines with the air.

A 40 pound sack of pellet costs only $3 and can last for two days.

A homeowner is entitled to a Residential Energy Efficiency Tax Credit, for the use or installation of energy efficient technologies from 2009 to 2010 at a combined total of up to $1500. Provided that the equipment or installations are new and meet the EPA performance and safety standards.
The Stove's Disadvantages
Pellet wood stoves are electricity operated and are plugged to normal outlets just like any appliance. The electricity is needed by the motorized pellet fuel feeder to ensure even and regular feeding of wood pellets from the hopper or pellet container to the steel burn-pot. The normal electrical consumption of a pellet wood stove per month is about 100KWH. There are models that come with battery packs.

Not all houses can be fitted with a pellet wood stove insert for the house's vent system. US housing laws prohibit their installations in manufactured or pre-fabricated houses.

For houses with installed pellet wood stoves in their vent systems, a professional will be required to perform an annual chimney sweep before winter or at the end of each fall. The professional will issue a certification regarding the results of the chimney sweep which includes an affirmation that the components of the pellet wood stoves as well as the chimney are in good working condition.

All types of pellet wood stoves require a thorough combustor inspection at least three times during the winter season. This is to check if the combustor needs to be replaced; the cost of a combustor replacement is around $200 or less. At the end of the winter season, the ash residues and wood pellet leftovers should be removed with a wire brush.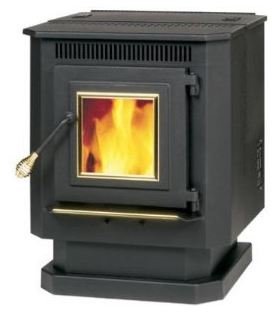 Other Considerations when Buying a Pellet Wood Stove
The prices of pellet wood stoves range from $1700 to $3,000, and they are widely available throughout the US. In fact, you can buy one from online stores like Amazon. However, it is best if you also look into the pellet stove's capacity for ash content. This is important for the stove's efficiency, since some pellet fuels have high ash contents, which makes it necessary for the user to use only the type of pellets recommended by the manufacturer.
The disadvantages of a pellet wood stove may influence your decision to buy this type of stove and settle for the conventional EPA certified wood stove instead. Nevertheless, standards of fuel emissions have been put in place, and the Pellet Fuels Institute (PFI) oversees the production of pellet manufacturers, by maintaining the National Residential Pellet Fuel Standards. This is pursuant to the government's push for higher emission restrictions by lowering the present PM2.5 by at least half.
In addition, several US communities ban wood burning in their localities, while a number of petitions in some areas are being signed for the nationwide banning of wood burning, In line with this, you may have to reconsider your options when buying a conventional wood stove, albeit EPA certified. A pellet wood stove may still end up as the better choice.
Reference Material and Image Credit Section
Reference Material:
Image Credit:
Wikimedia Common
Amazon.Com