5 Recycled Halloween Costume Ideas for Adults and Kids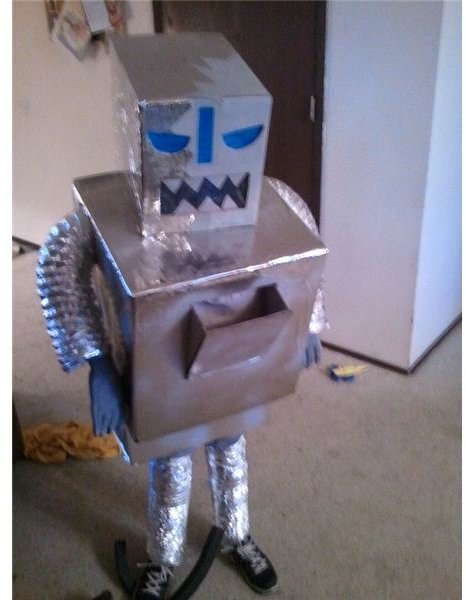 Using recycled materials to make your Halloween costume is fun, easy, and reduces your environmental impact. You don't need to spend money on cheaply made costumes that will be worn only a handful of hours. Use items you already have or materials with recycled content to make a fun, environmentally friendly costume.
When searching for the materials to make the Halloween costume ideas below first look around the house or at a thrift store. For any new materials you need to purchase, look for items with recycled content or useful items you can reuse after Halloween has passed.
Recycled Halloween Costumes for Adults
The Classic Ghost - How much more basic can you get? For the ultimate last-minute low-impact Halloween costume, find an old white sheet at home or a thrift store. Cut out two generous sized holes for your eyes, don the sheet and you're done. You can reuse your costume next year or cut it up into cleaning and dusting rags.
Cardboard Warrior - You'll need a few large cardboard boxes to make a Cardboard Warrior costume. Cut each box along one side and lay each box out flat. Trace around your chest twice on the boxes. Cut the pieces out and assemble into an armor vest using twine to secure at the shoulders and sides. Construct a dagger or sword out of the cardboard. You can also make a helmet, leg armor, etc. if you'd like. Paint or otherwise decorate the costume as desired. Recycle costume after Halloween.
Recycled Halloween Costumes for Children
**
Recycled Robot - Make a robot costume from two old cardboard boxes and some dryer vent tubing. You'll need a box large enough to fit over the child's head and a box to fit around the child's body. Dryer vent tubing can be found at a hardware store.
Cut a hole in the bottom of the smaller box and place on the child's head for fit. Remove the box and cut out the front to within 3 inches of the sides. The box should rest on the shoulders or top of the head. To make the robot's body, cut the back out of the larger box. Cut arm holes on the sides and a groove in the top to fit around the neck. If desired, spray paint the boxes silver. Decorate the box using a black marker to draw in buttons and display panels on the robot. Attach dryer vent tubing to fit the child's arms to the box with heavy tape. The child can wear black pants and a black shirt under the costume. Recycle cardboard after Halloween and give away dryer vent tubing on Freecycle.
Thrift stores often have a selection of previously worn Halloween costumes for kids. Browse the selection at several thrift stores first to see if your child can find a costume they like. If nothing suits them, shop the thrift store for items you can use to make a Halloween costume at home. Here are some suggestions:
Little Pumpkin - You'll need orange fabric or an orange blanket as well as a small amount of fabric in green and black. Cut two large circles out of the orange fabric. Have your child lay on the circles and mark where arm and neck holes should be. When sewing the pieces together, leave the arm and neck holes as well as the bottom of the costume unsewn. Decorate pumpkin costume by gluing on green fabric around the neck to resemble leaves and black fabric to make a jack-o-lantern face.
Big Baby - Buy the largest baby blanket you can find. Also look for big baby items such as bootie-type slippers, a snug fitting knit hat and pastel pink or blue cotton clothes. Wrap up in the blanket for trick-or-treating.
Have a Green Halloween!
There are a multitude of ways to make your halloween a bit less impact including giving out organic candy as treats. If you find you don't have time to make your own, you can purchase organic halloween costumes. If nothing else, instead of buying a plastic candy carrier, use an old pillow case to lug around your loot. Happy Trick-or-Treating!
References