Recycled and Reused Wedding Rings for Your Green Wedding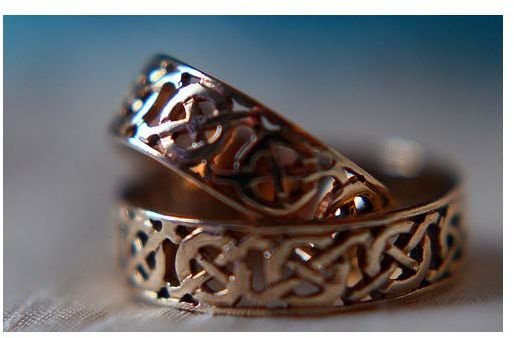 Planning for a green wedding begins with the engagement and wedding rings you choose. Start your new life off on the right foot by considering the environmental and social impact of your rings.
Where does your standard set of wedding rings come from? Most eco-conscious consumers probably don't even want to think about it. Strip mining and violent third world diamond wars are not very romantic. If supporting products and manufacturing processes that tread lightly on the earth are important to you, you have many choices when choosing wedding rings that symbolize your values, and are the perfect choice for your green wedding.
Recycled Wedding Rings
Eye-catching, gorgeous jewelry does not need to be made from virgin materials. Many green designers are making reused or recycled jewelry to fit the values of the green movement. Precious metals can be melted down and refined to create recycled wedding rings. Using recycled metals instead of virgin material cuts the dirty mining process out of the ecological footprint of the rings.
Several jewelers now offer eco-friendly designs made from recycled metals. Recycled wedding rings made by Green Karat (www.greenkarat.com) come with detailed information exposing the ecological impacts of each step in the ring making process. Each piece of jewelry from Green Karat is accompanied by documentation on the impact of the metals, alloys, gems, and refining process used to create it.
At Artisan Wedding Rings (www.artisanweddingrings.com), rings are made by American designers with 100% recycled precious metals. Recycled rings are made from gold, silver, or platinum and feature fair-trade gemstones and conflict free diamonds.
Brilliant Earth (www.brilliantearth.com) also features wedding rings made from 100% recycled and re-refined metals. Customers can send in their unused precious metal jewelry to be used as a credit toward their purchase. You can browse their online store for rings or create your own design featuring conflict-free diamonds and ethically sourced sapphires.
Jeweler Sam Abbay creates custom wedding rings out of recycled metals and eco-sourced gems at New York Wedding Ring (www.newyorkweddingring.com). "I would not have a good conscience as a goldsmith if I were not leaving the smallest footprint possible," reports Abbay on his website. Many other artisans feature their unique designs online using recycled precious metals, many at Etsy.com.
Reused Wedding Rings
Sound strange to use a wedding ring that's not originally yours? If you choose to purchase your wedding rings at an antique shop, pawn shop, or on eBay you can eliminate the environmental impact of the purchase entirely. Though the rings may come with some history, they will come to symbolize your commitment to each other and the earth.
Could you reuse a family heirloom wedding ring set? Inquire among family members if rings from your ancestors are still in the family. It will be a special gesture to your honor your family and your environmental values.
photo courtesty flickr.com creative commons license:
https://www.flickr.com/photos/62337512@N00/3160120344/