Square Foot Gardening In An Organic Raised Bed Vegetable Garden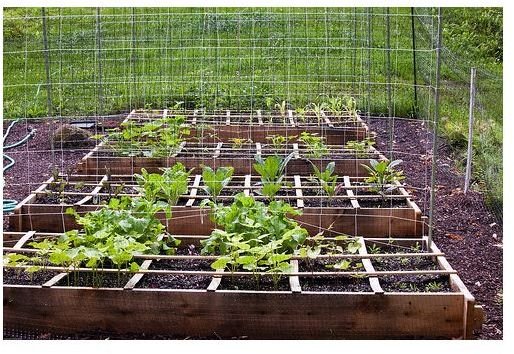 Square Foot Gardening Is A Raised Garden Bed With Grids
Popularized by Mel Bartholomew, author of the best-selling garden book of all time Square Foot Gardening, this garden method offers a host of benefits for the gardener. Square Foot Gardening is an intensive gardening technique that utilizes a grid of one-foot squares. You can use the square foot gardening technique for organic or conventional vegetable gardening.
The square foot garden works on the concept of a raised garden bed with grids on top of it. A raised garden bed is usually long and rectangular-shaped, although you can have square raised garden beds or even octagonal shapes or pyramid shaped raised bed gardens if you choose. A raised garden bed can be created using a variety of materials – from rocks to cement, blocks, bricks and just about any non-toxic, sturdy landscaping material you can think of. However, they are usually made of untreated wood.
Your raised garden beds can be as long as you choose. For this example, let's say you want to construct a raised garden bed that is six feet long and two feet wide. Two to four feet wide is ideal because you want to be able to reach across the beds to tend your plants, but you don't want it to be too wide. Take two boards that are six feet long and at least a foot high. Place these parallel to each other. On the ends, you will nail your two-foot-long boards. You will need to put down something to keep the grass from growing into your beds. You may use sheets from your local newspaper. It is the gardener's preferred choice since it allows excellent drainage. Spread them out on the ground in the bottom of the bed and spray them with water to keep them in place. You might also black plastic or landscaping material to keep out grass. However, these will prevent the roots growing down into the soil. Plastic is not the best option since it does not drain very well and it holds too much heat. You will have to punch holes in it to make sure the water drains properly from your beds. Newspaper is biodegradable so it will eventually decay and become part of the soil.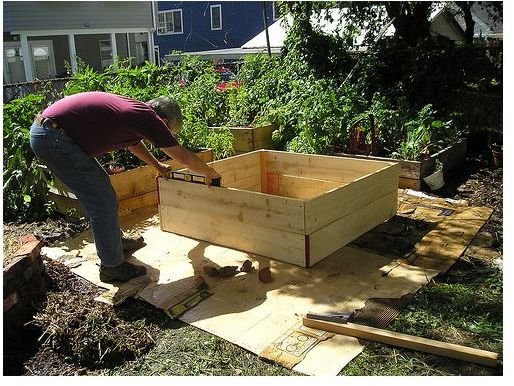 The soil you put into your raised garden beds is very important, especially if you want an organic garden soil. Ideally, it should contain at least 1/3 of the natural dirt from your land. You can amend this organic fertilizer. You can use store-bought topsoil, composted natural materials, fish bone meal, manure (cow manure, turkey manure or chicken manure) or simply use a balanced pre-packaged soil mix. Mel Bartholomew offers his own brand "Mel's Mix" and tutorials at his Square Foot Gardening web site.
Mel Bartholomew uses long strips of plastic or wood to create one-foot by one-foot squares over the top of the raised garden bed in a tic-tac-toe style (see the photo at top). Into each of these squares, you will sew your seeds or put transplants. The value of using the squares is to have a guide for spacing your plants.
Square foot gardening and raised bed organic gardening use less water than a conventional row garden. You can grow more vegetables for your family in less space. It is also the easiest garden to keep free of weeds – no hoeing or digging – you simply pull up the few weeds that appear.
Another way to get more space is to grow your vegetable plants vertically. You can train vine plants (like cucumbers, cantaloupes, peas and beans) to grow up a trellis or fence behind the raised bed. If you have limited space, try square foot gardening. You will be amazed how much food you can grow in a small area. Raised bed organic gardening (or any gardening for that matter) is also very therapeutic for the body and spirit.
Having your own raised bed vegetable garden can help reduce your carbon footprint, ensure that the foods you eat are organic and pesticide-free, provide for your family, cut your grocery bill and help save the environment. How's that for exponentially great results?