Guide to an Organic Raised Bed Vegetable Garden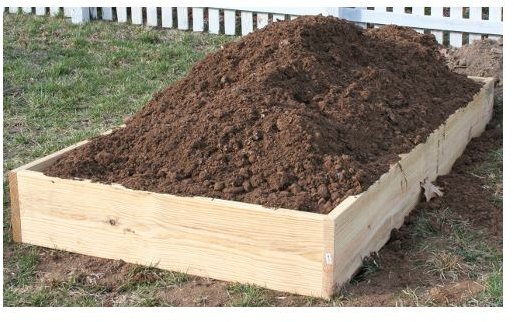 Ways To Obtain A Raised Garden Bed
You can create a raised bed vegetable garden in several ways. These include:
Buy a raised bed garden kit
Commission a carpenter to build a raised garden bed for you
Build your own raised garden beds using untreated wood boards and nails
Buy a raised garden bed that is already built
Construct a raised bed garden out of whatever materials you have on hand, including: cement blocks, bricks, rocks, or any other sturdy material.
Build A DIY Raised Bed Garden
Assuming you want to create raised garden beds by yourself, here is a simple how-to:
Select the site for your raised bed garden. The area you choose needs good drainage and plenty of sunlight, especially the morning sun. It should be relatively level. It does not need good soil since you won't be planting directly into the soil. Do clear the area of rocks or debris. Make sure it is not over tree roots or utility lines. Even though you won't be digging into the existing soil, you don't want to cover them up or disturb them if you plan to make your beds permanent.

Create a plan of how you are going to lay out your raised garden beds. You can have just one raised garden bed, or you can have several. You can create walkways between the raised bed gardens using gravel, sand, mulch, wood shavings or black landscaper's cloth to keep the grass out. Your walkways between the raised garden beds need to be wide enough for you to comfortably walk through, considering a bit of overhang from mature vegetable plants.

Decide on the size of your raised garden beds. There is no established size. Many people prefer square raised beds that are four feet by four feet. This allows you the freedom to reach into the garden beds from any side, tend to the plants and weed easily. Others prefer long, rectangular raised garden beds – perhaps six to eight feet long and three feet wide.

Decide on the layout for your raised bed vegetable garden. How will you arrange the raised garden beds? Will they be parallel or will you have one square bed, one rectangular bed and one octagonal-shaped pyramid bed? How you decide to lay them out is up to you. Think about it awhile and then create a design for your raised bed vegetable garden.
It's not absolutely necessary to dig out the grass before you put in the raised garden beds; however, a lot of people go ahead and do this to avoid grass growing up into the beds later. You can kill existing grass by placing plastic over it and allowing it stay there a couple of weeks, then digging up the roots more easily. This also solarizes the soil and kills any insects below. It also kills beneficial bacteria so don't use plastic if you intend to use this soil for planting right away.

Now assemble everything you will need to construct the raised bed garden. Raised garden beds that are six foot long by three-foot wide will need two boards parallel to each other that are six foot long and around one-foot high. For the ends you will need two boards that are three-foot long by one-foot high. Be sure to use untreated wood. Lay your boards out as you intend them to be in the raised garden bed. Begin by nailing on the end board to the side board. You will need at least three nails – one at the top of joined corner, one in the middle and one at the bottom of the joined corner. Proceed to nail all four corners.

If you are going to place these raised garden beds over soil, then you do not need to put a wood bottom in the bed. Simply get old newspapers and spread them out over the entire area of the bed. Spray them down with water to keep them in place. The newspapers will smother the grass below but also allow your soil to drain properly. They are biodegradable so eventually they will disintegrate. Some people use plastic in the bottom of the beds. If you do this, be sure to put enough holes to allow enough water to drain. Plastic may also raise the temperature inside the beds so if you're in a hot climate, you may not want to use it.

Next add your soil or growing medium. You can buy pre-mixed soils or some type of growing medium ready to put into the bed. These come bagged at lawn and garden centers. A good garden soil is deep, fertile, well-drained, loose, near neutral, and has a lot of decayed organic matter. You can make your own soil mix by using 1/3rd natural soil from your garden area, 1/3rd compost and 1/3rd top soil. Amend the soil with some type of fertilizer. If you plan to have an organic garden, you may use turkey, cow or chicken manure that has been mixed with compost. Try to obtain it from a small local farm that does not administer antibiotics, hormones or steroids to their livestock and poultry. That is because recently antibiotics have shown up in lettuce because the soil was fertilized with manure containing from farm animals administered antibiotics.

Mix your growing medium thoroughly and then shovel it into the raised bed garden.
Now, you are ready to plant in your raised garden beds. You can accompish the same thing by using brick, blocks, pieces of concrete or rocks. All you need is to construct a raised garden bed with four sides to retain the soil - that's all. Make sure it has adequate drainage, sunlight, nutrients and water. Enjoy your raised bed vegetable garden!