Environmental Effects of Tourism on Everest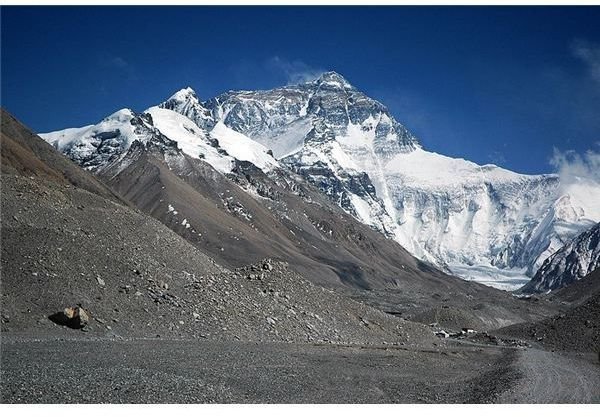 Ecotourism and Everest
A Google search for "eco-tourism" or "eco-tourism to Mt. Everest" returns pages of hits for eco-tours to Everest. However, a claim of eco-tourism does not guarantee sustainable travel. Eco-tourism should abide by principles of sutainablility for local cultures and low-human impact on the natural environment.
According to TED Case Studies: Everest Tourism, Mount Everest and the Nepal side of the mountain are environmentally degraded as the result of increased tourism to the mountain and the wider region. Resonsibility for the situation at Everest lays on many heads. The Nepalese government encourages increased tourism to Everest and Nepal. Mountain climbers with varying degrees of expertise now attempt to ascend the ultimate pinnacle of mountain climbing achievement. The challenges climbers face lead to environmental problems on Everest.
Problem
Everest trekkers regularly encounter rubbish. Deforestation, the result of tourism, has led to monsoonal soil erosion. Most visitors to Nepal are hikers and climbers. Nepal's government continues to encourage tourists to Everest for economic reasons. Tourists and climbers to Sagarmatha (Mt. Everest Natinal Park are no longer allowed to burn wood because of deforestation. According to Mt. Everest Cleanup (.com), robust tourism in Nepal, has caused tons of garbage to accumulate on the South Col (Camp IV). As climbers ascend to higher altitudes, lack of oxygen causes impaired brain function. In stark survival mode, climbers are less likely to be concerned with more mundane, albeit essential, garbage collection.
Solution
Specific to Mt. Everest, climbers come together to help clear both ascents to Everest. In 2002, a team of climbers cleared two tons from Everest's south flank in two weeks. (See References "Mountaineering Team"). Many climbers feel a responsibility to the mountain. Clearing rubbish from a mountain so high requires seasoned climbers who can function in the low-oxygen environment. Climbers align with other initiatives to clean up the highest mountain on earth. More controversial, only the most experienced climbers should attempt to scale Everest. Climbing expeditions should only be led by companies committed to EVerest's environment above profit margins.
Generally, travelers can commit to the principles of eco-tourism. When tourists to Everest or any other destination educate themselves about responsible and sustainable travel, they can make reasoned travel decisions from the planning stage forward. The Ecotourism Explorerer on the The International Tourism Society (TIES) website guides prospective travelers to make informed travel decisions for global destinations. Consult respected travel guides to learn about culture and environment in advance of travel. TIES recommends Lonely Planet, Rough Guides, and Moon guides. Research each destination's accommodations on the Internet. Gather as much information as possible. Select travel agents wisely. Only use agents committed to sustainable travel principles.
Conquering Mt. Everest and Trash
Image Credits