Solar Backpack Charger and Converter – A Voltaic Backpack Review of Green Travel Accessories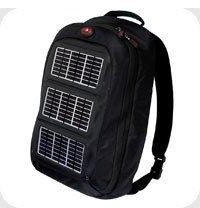 The Voltaic Solar Backpack Charger
Carrying a solar backpack charger, is one sure way of going through your nature trip travels without having to worry if your digital cameras, cell phones, media players, etc. will run out of battery power..This Voltaic backpack review takes a closer look at this contraption, which houses 4 waterproof photo-Voltaic solar panels attached to the bag's exterior. It can store and generate full power up to 4 watts.
Most bikers, trekkers or trailblazers, gear up with Voltaic backpacks on their backs so they can charge up their electronic devices and store battery power, while on the go. The stored energy enables the user to keep reserve power supply, for their gizmos when they [run out of power during the night](https://Advantages and Disadvantages of Solar Energy Can Solar Technology .) even atop a mountain.
How a Voltaic Solar Backpack Charger and Converter Works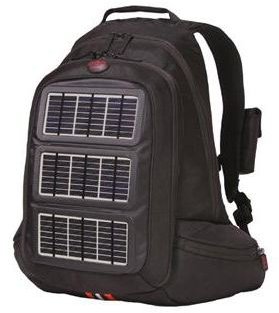 You don't have to be stationary, just be on the go and enjoy connecting with nature because the solar backpack charger weighs like an ordinary school bag. Even if you put your electronic devices in it, the weight you will be carrying will be no more than a regular bag.

A single backpack can have as many as 11 fully wired adaptors connected to the solar panels which will simultaneously charge your handheld electronic and digital gizmos including portable radios, pda, digital media players and handheld game consoles.

Each of these electronic devices can be secured in individual pockets inside the bag using separate wiring conduits; hence, all charging and energy storing can be done simultaneously to fully harness the sun's power while it's still up.

You will need 4 to 6 hours of direct solar heat to fully charge your cell phone and a maximum of three electronic gadgets can be charged all together.

The backpack's internal Li-Ion battery pack can collect up to 2,800 milliamp hours of battery storage and produce about 4 watts of electricity. So even if your gadget runs out of battery during the night, a ready supply of stored energy can be used for charging.

If the sun is out and you would like to fill up the Li-Ion battery pack, you can use a DC car charger or if there is available power outlet to connect to, you can use an AC travel charger. A unit is usually sold with an accompanying car charger socket and USB adaptor.

When not traveling, you can maximize the usefulness of this solar backpack at home by using it as your charger, instead of using your electric power outlets. Simply put your gadgets inside and place the bag in areas exposed to the sun. According to its manuals, the sunbeam doesn't have to be super hot, even a simple sunny temperature will do.
Other Features:
These made-for-outdoor Voltaic solar chargers and converter bags come in different models and will depend on the charging capacity. Some can charge only handheld electronic devices including 15.4 inch widescreen notebooks, while others are designed to accommodate laptops in addition to the handheld electronic gizmos. There are also Voltaic solar chargers and converter bags structured and designed for beach use.
The backpack's basic fabric was made from recycled PET bottles to make sure that the Voltaic Solar Powered Backpack and Converter is waterproof as well as UV resistant. Thus, the back is protected from getting a dose of solar powered heat and you don't have to worry about chaffing and getting blisters, while carrying this solar backpack charger. The straps and the bag itself are fully lined with high density padding and breathable nylon mesh materials.