Recycled and Reclaimed Glass Jewelry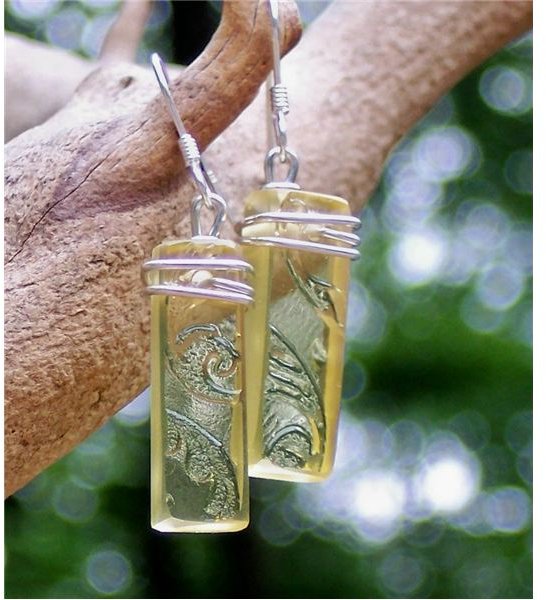 Bottled Up Designs: Eco-Glass Jewelry
Reclaiming artist, Laura Bergam had always been an avid glass collector when she noticed that people were leaving behind broken glass in their attempt to collect whole glass bottles. She decided to combine her love for collecting glass and her artistic talents and began to reclaim those broken glass bottle pieces that otherwise would be left lying about and cluttering up the natural environment.
Turning broken glass bottles and pieces into beautiful and wearable works of art is what created the Bottled Up Designs small business back in 2008. Through Bottled Up Designs, Laura continues to pick up glass litter in and around the deep Pennsylvania woods and glass dumps to this day.
One of the added features to each piece of the recycled glass jewelry is that Laura includes what she calls "Story of the Glass". The mini-write ups explain where she found the glass that was reclaimed, what type of glass it is and what the glass used to be used for. For instance with the reclaimed depression glass jewelry, she adds in the time period that the type of glass was made and the various designs were imprinted into the popular tableware of the 1930's and 40's.
The recycled and reclaimed glass jewelry selection ranges from pendants and earrings, all of which are pieces created from found broken glass. The jewelry is broken down by types of glass and by shape. In one area on the Bottled Up Designs site you will find a selection of rectangle, square and petite pieces while the glass type category is listed through ruby glass, olive green glass, blue cobalt glass, amber glass, yellow glass, pink glass and clear glass.
Beyond the glass jewelry, Laura has created a line of recycled glass Christmas ornaments. The ornaments are created from white milk glass jars that used to be Pond's Cold Cream containers back in the 1900's. Each jar is cleaned, melted down and reformed into three different snowflake patterns for the tree trimming.
You can learn more about Laura Bergman, her work and check out all the jewelry designs currently available through her business web site at: www.bottledupdesigns.com
*image provided by and © 2009 Bottled Up Designs, LLC