Find Green Baby Items Online: A review of BabyEarth.com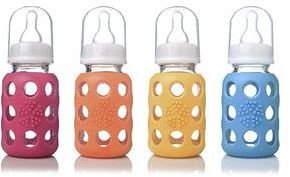 What is BabyEarth Online?
In 2003, the husband and wife team of James and Heather Bendle created Baby-Wise in an effort to help frustrated parents find baby products in an easier fashion. After the birth of their daughter, Heather spent a great deal of time hunting down unique, safe and organic baby products. What Heather found out was in order to get a hold of all those products, she had to search several different shops both on and offline. The goal in creating Baby-Wise was to bring all of those resources together so that parents could come to one central location without wasting time in hunting products down.
Baby-Wise grew from being a home-based business to having an Austin store front in 2006. The re-branding of Bay-Wise to BabyEarth happened in 2008 due to becoming a greener and more environmentally based business focused on organic products for babies. Today, BabyEarth has surpassed its original growth plan and carries eight hundred-ninety six organic baby products in addition to thousands of standard baby products that were supplied while the company was Baby-Wise.
Here we take a closer look at some of the eco-baby items that are carried by BabyEarth, from glass bottles with their colorful covers through to green baby furniture. For more information on other ways to green with baby, check out Favorite Non Toxic Green Baby Toys and Choosing Non Toxic Co-Sleepers for Baby.
Green Items Just for Baby!
All green baby products are listed under BabyEarth's Eco-Friendly area online. Each green item that is offered is backed by BabyEarth as a product that they would use with their own children. Featured organic product makers such as Haba and Under the Nile contribute to the myriad selection of diapers, BPA free bottles, blankets, clothes, skin care and non-toxic toys.
One of the sites best sellers is the mini WeeGo glass bottles. Shown to the left, the baby bottles are covered with a 100% non-toxic and plastic free sleeve that protects the bottle and baby from glass breakage. The WeeGo bottles are also polycarbonate, BPA, PVC and phthalate free and come with a recyclable ring, plug and cap. The bottles come in 8 and 4 oz sizes with your choice of colored sleeve in blue, light blue, yellow, orange, light pink and dark pink.
Another green baby product that has been a steady seller for BabyEarth is the Stokke Sleepi crib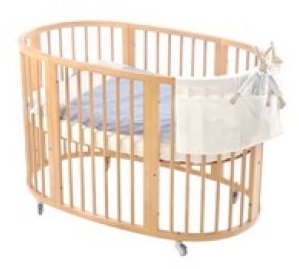 system.The Stokke Sleepi is an oval shaped crib on wheels created from birch wood. The crib is portable and can be adjusted to grow with the child beyond infant size. In the image to the right is an example of the Stokke Sleepi system that is available through BabyEarth.
For more information on BabyEarth and the various organic products they offer for your green baby, visit their main web site online at: www.babyearth.com
*images used were provided by and are Copyright © 2003-2010 Wise Innovations, Inc.