Recycled Guitar String Bracelets by Wear Your Music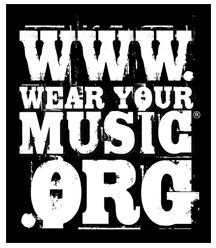 What is Wear Your Music?
You can now own a piece of music history, while helping the world to do good and go green! The Wear Your Music company takes donated guitar strings from some of today's top musicians and creates recycled bracelets out of them.
Designer, Hannah Garrison had already been making recycled guitar string bracelets as a hobby when she teamed up with Steve Bernstein who was looking for away to use guitar strings for advertising. Together they created a way to not only garner more advertising for musicians but to also use recyclable materials and have the sale of the bracelets go to support a charity.
For more information on other forms of recycled items as eco-fashion, check out Eco-Fashion from Recycled Plastic Bags: Boots, Bags & More and Eco-Clothing and Green Fashion Designs: Zoica Matei.
Wear Your Music Blends Music and Eco-Fashion
Garrison's Wear Your Music company carries two different lines of recycled guitar bracelets, which are the Artists Bracelets and the Fashion Bracelets. Recycled bracelets from both lines come with their own recycle DVD case with certificates of authenticity. The profits from each bracelet go to either the artists choice or one of the listed charities in the Wear Your Music program.
Garrison also offers another way to for those looking to get a bracelet to save some cash in wearing one. The call is for a donation of six used guitar strings to be sent in for a trade of the new RockRecycled braclet. Each RockRecycled bracelet is one of a kind bangle made from a recycled guitar string and sterling silver.
The Wear Your Music;s first line or recycled guitar string items began with a series of bracelets, simply called the Artists Bracelets. These bracelets are the cornerstone of the project and are still created in the same way that Hannah made them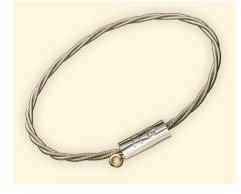 a few years ago. Each recycled string bracelet in this line are made to slip over the hand, with the ends of the guitars strings finished in silver for a smooth feel. Each bracelet is created exclusively out of guitar string donate by musicians. For example, you can get a recycled guitar string bracelet from John Mayer's guitar with 100% of the profits going to the Back To You Fund. An example of this can be seen in the image at the right, showing one of John Mayer's used guitar string made into a bracelet.
The Fashion Bracelets are regular guitar strings that come in a variety of colors and have a percentage of their sale donated to charity. Currently, the color range spans from black to pink and they even carry a red, white and blue "Rock America" guitar string bracelet. For more information on these or the artist recycled guitar string bracelets, visit the groups main web site at: https://wearyourmusic.org
*images used were provided by and are © 2006 - 2009 Wear Your Music ® LLC