Urban Ecologie and the Best Green Shopping Websites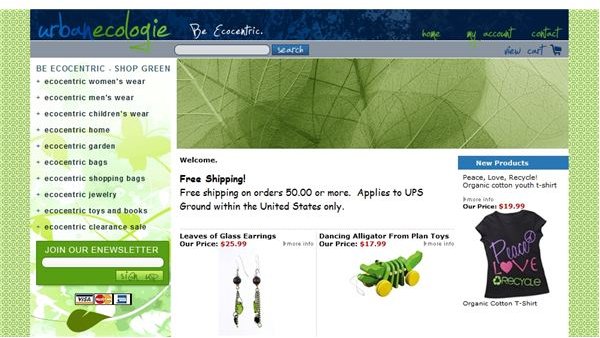 Urban Ecologie
An interesting place to shop green online is Urban Ecologie. This family based business is dedicated to the environment and their customers. As a member of 1% For the Planet they donate a percentage of their sales to a diverse network of over 1,000 environmental organizations worldwide. Urban Ecologie's assortment of products include stylish organic cotton clothing, fashion bags, eco jewelry, small home decor items, and children's toys. Each product is appropriate for sustainable living. They also make great eco-friendly gifts to give to loved ones on birthdays or special occasions. Their customer service is gracious and attentive. Urban Ecologie has a noteworthy inventory that earns them the reputation of ecocentric.
Peace Love Recycle & Green Clothing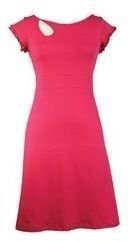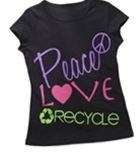 Urban Ecologie sells quality green clothing made out of organic cotton or hemp. The site features a section for women, men, and children's wear. Women have a variety of apparel to choose from. The style of fashion at Urban Ecologie is very hip and modern. Sexy form fitting keyhole dresses are woven in organic blends to produce an environment friendly trend. If you prefer casual wear select from their collection of ecocentric applique t-shirts and wear them with your favorite pair of jeans. All of the tees at Urban Ecologie have decorative symbols or slogans promoting sustainable living. Phrases like Touch the Earth or Peace Love Recycle advocate environmental awareness.
Although, the men and children's wear department is slightly smaller they make up for it in design. The men's wear apparel features a classic hemp camp shirt that is completely wrinkle-resistant. Comfortable organic cotton t-shirts with simple patterns create a suitable line of men's clothing. Cute youth tees similar to the adult versions and adorable snappies for babies manufactured from organic fabric blends wrap up the children's wear section.
Ecocentric Jewelry

Ecocentric jewelry are green items with a special flaire. Urban Ecologie jewelry is 100% ecocentric.They add a unique accent to outfits and express mood. Some green shopping websites lack in the jewelry department but this shop excels. The ecocentric jewelry at Urban Ecologie depicts passion, elegance, and timeless vintage. All of the precious trinkets are made out of recycled materials. Wearing ethical eco-friendly jewelry gives you style without wasting natural resources. Urban Ecologie has an array of earrings, bracelets, and necklaces. One of their most beautiful pieces is the Pendulum Necklace made out of 1960's vintage marbled lucite. It's absolutely beautiful.
Bags Books & Bargains Eco-Style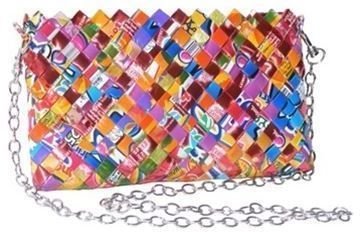 Urban Ecologie also sells fashionable bags and children books about the environment. Their bags come in various varieties from colorful clutches to functional messenger bags. Instead of wasting plastic bags consumers purchase a stylish Urban Ecologie shopping bag. All of the products at Urban Ecologie are reasonably priced. As a green store they often extend special bargains to their customers in the clearance section. Green shoppers can find popular Urban Ecologie items on sale for less. It's a great incentive to continue shopping ecoconscious. The discounts they offer are a bonus. Urban Ecologie is a chic green shopping website that is worth checking out if you want to shop ecoconscious.