Where to get Eco-Swimsuits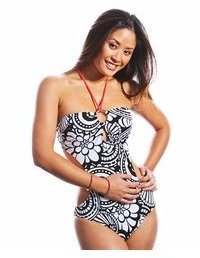 Top 3 Eco-Fashion Swimsuit Collections
Since the advent of more eco-fashions becoming mainstream, one area in the past few years that has been lacking is in swimwear. This Summer season, however has seen an upsurge ofeco -designers creating and even specializing in creating sustainable swimwear lines. From organic fabrics to recycled outer linings there is an interesting material blend for almost every suit. Here we are going to take a look at the top threeeco-fashion suit collections, so that you can make the best environmentally based swim suit choice.
**
Eco-Panda: By far the top listing for sustainable swimwear. They specialize in creating nothing but swimwear and cover ups. Each bikini piece, top and bottom are sold separately to allow for mixing and matching while the one piece suits come in complimentary patterns and styles.
The basis for their suits come from using nylon recycled from fishing nets. Featured to the left is their Mandalay BandeauMonokini one piece that retails online for $49.95. For more information on Eco-Panda and to see their entire gallery of eco-fashion swimwear, visit their main web site at: www.eco-panda.com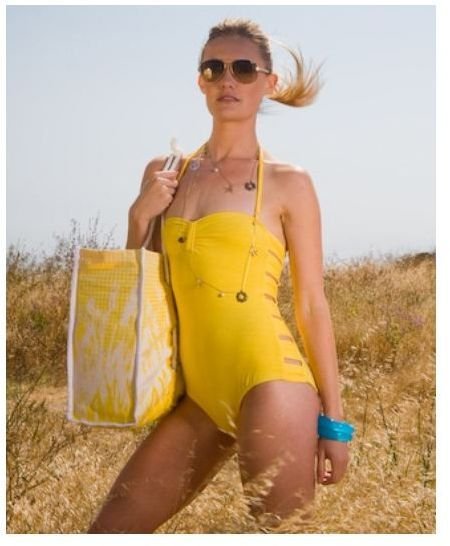 Kelly B Couture: Eco-fashion designer Kelly Barry has created some sustainable swimwear for the Summer. Featured in The View's green fashion show, her suits are created from 100% organic bamboo and cotton blends. The current collection contains three styledeco-suits which range from $118 to $140 online through the designers Etsy shop.
Featured to the left is Kelly's Tizzi Cut Out Swimsuit which has a removable neck-strap and minimale cut outs for coverage with a little bit of a sexy edge. For more information on Kelly B and her eco-swimwear, visit her main web site at: https://kellybcouture.com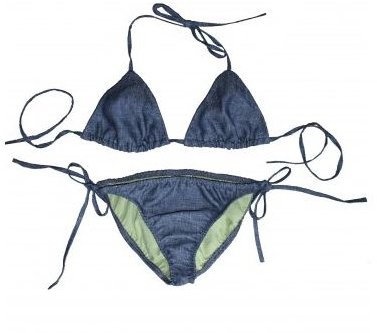 Green is Black: Self titled as "fashion for the conscious", the company is run by a combination of green friends and family all working together to provide fashionable and sustainable clothing. The Green is Black bikini collection contains various colors and styles for tops only.
The majority of featured tops are fromOom Ethikwear's in Canada and created from a base of 100% certified fair trade organic cotton. Other suits that are offered through Green is Black are made from recycled materials andre-purposed for their swimwear collection. Featured to the left is their eco string bikini by deux fm's denim and with an inner bamboo and cotton lining. For more information Green is Black and the suits they have, visit their main web site at: https://greenisblack.ca
This post is part of the series: Earth Friendly Fashion Quest
It is possible to be both fashionable and eco-friendly with the help of some amazing and innovative designers. Check out the latest fashions whether they're made of the softest organic cotton or from recycled plastic bags.