Best Home Wind Generators - Small Scale Wind Power Info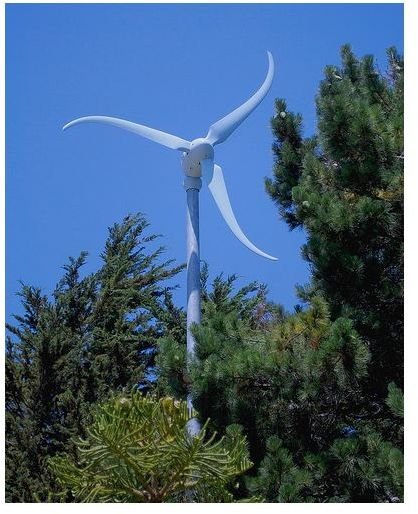 Investing in a wind generator is a sustainable way to provide your home's electricity needs. Whether your home is tied to the electrical grid or is off-grid, you can put the power of the wind to work for you.
In a grid-tied system, your home is powered by both your wind generator and the electrical grid. During peak windy periods excess power is sold to your electric utility. When the wind is gentle or nonexistent grid power is used. No batteries are used in a grid-tied system.
When a wind turbine is used in a remote off-grid location, back-up power must be supplied by another energy source (say, solar panels), batteries that store excess energy, or both.
According to the American Wind Energy Association (AWEA), a typical wind turbine can lower your electric bills by 50 to 90 percent. "The amount of money a small wind turbine saves you in the long run will depend upon its cost, the amount of electricity you use, the average wind speed at your site, and other factors," states the AWEA website.
As for the environmental benefits of choosing wind power, the AWEA points out that "over its life, a small residential wind turbine can offset approximately 1.2 tons of air pollutants and 200 tons of greenhouse gases (carbon dioxide and other gases which cause climate change)."
So how do you go about choosing a wind generator that will work for your home and your location? Your first step is examining local wind data, which you can find through the US Department of Energy. A productive location for a home wind generator should have at least 10 mph average wind speed, according to the AWEA.
Next, have a wind power evaluator visit your site and make recommendations. Their expertise in local wind systems will be invaluable.
Don't forget to look into renewable energy rebates available from federal sources, your state, and your local utility company to help off-set the cost of your wind generator system.
Top Rated Home Wind Generators
Based in Oklahoma, Bergey Windpower produces small wind turbines for the homeowner, including their best selling full-sized 10 kW BWC Excel. Their products come with an industry leading 5-year warranty. Bergey wind turbines are known for their reliability and durability. Their oldest generators have been in operation for over 22 years.
The Skystream 3.7 from Southwest Windpower works well for home applications. Available with towers as short as 35 feet, the Skystream is designed for residential locations.
The Windspire wind turbine is a propeller-free model that measures only 30 feet tall and 4 feet wide. The affordably priced Windspire system has an average payback of under 10 years, according to their website. Made in the USA of 80% recycled materials, the Windspire is one of the quietest wind generators available. See photos and video of the Windspire in action here.
photo courtesty of flickr.com creative commons license