Prefold Cloth Diaper Patterns for Homemade Prefold Diapers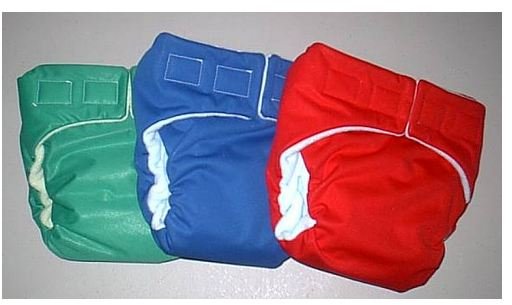 Sources for Fabrics and Supplies
Cloth diapers can be made from a variety of absorbent fabrics. You can utilize items from around the house such as old 100% cotton towels, sheets, and T-shirts. You can get fancy and order special fabrics online such as organic bamboo velour, hemp fleece, and organic cotton terry. Most diapers include a soaker pad in the center sandwiched between an inner and outer layer of fabric. You can choose a fun pattern or print for the layers that will be visible.
Other supplies you may need for diaper sewing include polyester thread (cotton thread wicks moisture), elastic, hook-and-loop or Aplix closures, snaps, and a snap press. Diaper making fabrics and notions can be found through the online stores Very Baby and Celtic Cloths.
Free Online Cloth Diaper Patterns
What style of cloth diapers will you make? You can read up about prefolds, fitted, pockets, and all-in-one (AIO) diapers here if you need a diaper style crash course. Prefolds require only very basic sewing skills, but even a beginner can sew fitted, pockets, or AIOs. All of the patterns listed below are available free online. Very Baby also sells high-quality patterns on its site for around $10 each.
Prefold patterns - To sew prefold diapers, follow this free tutorial from Very Baby. This pattern illustrates how genuine prefold diapers are made and how to recreate them at home.
To sew prefolds from recycled materials, such as old T-shirts, follow this pattern from Fern and Faerie.
Fitted diaper patterns - To sew fitted diapers, you will need elastic for the legs and back of the diaper in addition to your diaper fabric. You may also want to attach some form of closure, such as Aplix or snaps, to the front.
Helpful fitted diaper patterns can be found here at Fern and Faerie or by visiting diapersewing.com. This additional picture-filled tutorial on sewing a fitted diaper helps you through all the steps.
Pocket diaper patterns - Pocket diapers feature a stuffable pocket between a waterproof outer layer (such as PUL) and a stay-dry inner layer (such as microfleece or suedecloth). Look for these specialty fabrics at the sources listed above.
A popular free online pattern for pocket diapers is the Rita's Rump Pocket pattern. With this pattern you can make a reversible one-size-fits-most cotton flannel pocket diaper.
If you like Fuzzi Bunz pockets, try this pattern for a pocket diaper in a similar style. You can choose between a front Aplix or side snap closure.
AIO patterns - To sew all-in-ones, you will need a waterproof fabric for the outer layer of the diaper, elastic, and Aplix or snaps in addition to your absorbent fabric.
At Mama Bird's Free Diaper Patterns, you can find free downloadable patterns with variations for sewing your own fitted, pocket, or AIO diapers. A free pattern is also available to make a size medium all-in-one from Celtic Cloths here.
This post is part of the series: Using Cloth Diapers
From basic supplies, to what to do in emergencies, learn the ins and outs of using cloth diapers for your baby.