Organic Garlic Barrier for Pest Control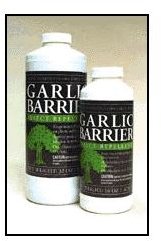 Garlic Barrier for Green Lawns and Gardens
When going organic for a green lawn and garden, some people new to growing are worried about the overall damage that can be done by birds, other mammals and various insects. Many natural ways of treating your planting area do exist but one base treatment has stood above the rest no matter the size of the planting area. From small lawns through to commercial organic cotton crops,the base treatment used is called Garlic Barrier.
Garlic Barrier was created by the Garlic Research Labs, Inc. in Glendale, California. The product is a concentrated garlic extract liquid that is mixed with water for spraying lawns, gardens and crops as a pest repellent. The garlic used for the extract is the most potent form of garlic available, the variety of which cannot be found in the local grocery stores. For example, one gallon of Garlic Barrier mixed with water can be used as a repellent on twelve acres of crops and up to five acres of orchard trees. The strong and pungent garlic order begins to dissipate in around thirty minuets and can be effective as a barrier for up to fifteen days.
Types of pests and other animals that could damage your organic lawn, garden or crops are listed as follows. Each one listed as be proven to work through user experience and has been also been documented by the United States Department of Agriculture's Wildlife Research Center.
Mesquites
Grasshoppers
Nematodes
Root Maggots
Beetles
Grape Plume Moths
Spidermites
Ticks
Chiggers
Deer
Rabbits
Birds
Geese
Armadillos *And many more
In addition to using Garlic Barrier on your organic lawn, gardening and farming areas the product can also be used to help repel pests from your pets and farm animals. When using the product with household pets, you cannot spray over the skin but rather have to put the garlic into the animals food. Recently, the Sustainable Agriculture Research for Education conducted a study for the United States Department of Agriculture in which Garlic Barrier was added to the food of sheep forde -worming and was found effective. More research will be conducted in the future both for the repelling and expelling properties of Garlic Barrier by the U.S. Department of Agriculture.
For more information on this organic and nontoxic product, visit the Garlic Research Labs, Inc. main web site at: www.garlicbarrier.com
*image provided courtesy of Garlic Research Labs, Inc.