Affordable Eco Shoes from Zoe & Zac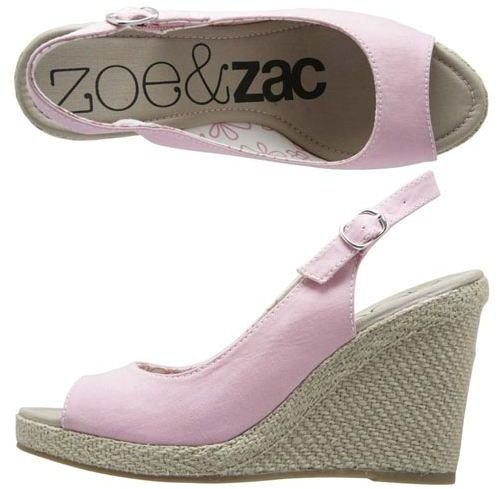 What is Zoe & Zac?
Eco-model, designer and global activist Summer Rayne Oaks has collaborated with Payless Shoe Source on a series of eco-footwear lines. Summer has created the Zoe & Zac collection to bring eco-fashion to everyone at affordable prices while supporting and promoting environmental awareness.
Having launched as a part of the Payless Spring 2009 collection, the Zoe & Zac styles are currently available in over one thousand Payless shoe stores across the United States and can be purchased through Payless's online shop as well. The green shoe collection has since expanded since 2009 and now includes winter boots and fall flats that have carried over into the 2011 & 2012 design years. For more information on eco-fashion beyond the green shoes, check out Eco-Fashion from Recycled Plastic Bags and Sustianable Eco Fashion from Choolips.
Zoe & Zac's Eco Shoes
Zoe & Zac's tag line is "fresh green fashion" and it easy to see why when one gets a chance to look over the various styles that are offered. You won't find plain-jane hippy footwear through this collection but rather an array of colorful and stylish eco-shoes that blend sustainable fashion and affordability. All eco-fashion footwear being offered through Payless Shoe Source is under thirty dollars a pair. Currently, the collection only contains earth friendly shoes and accessories for women and girls, there is no word yet on when or if a line of green shoe fashion will become available for the men and boys.
The materials that comprise the basis for the Zoe & Zac line are environmentally friendly and sustainable. Organic cotton, hemp and jute are the main fabric fibers used while the hardware used is nickle free. Other eco-materials utilized are recycled rubber from tires, elastic made from recycled plastic bottles and glue that is water based and non-toxic. The collection also uses sustainable fibers called vegetable ivory from the Tagua palm tree.
The green collection line features over twenty different shoe styles in both women's and girl's standard American sizes; size 5 through 11 for women and 1 through 13 for girls. Shoe styles range from espadrille wedges through to oxfords, ballet flats and ankle boots.
Under the women's selection, the most popular eco-shoe for Spring appears to be the Tigerlilly Espadrille Wedge that retails for $26.99 and comes in pink, purple and black.
For the girls selection, the seemingly most popular shoe appears to be the Snapdragon Ballet Flat that retails for $19.99 and comes in brown or eggplant with a line white design flower motif.
Their winter and fall shoe collections included styles, such as the popular Anise bow flat which can be seen in the image to at the right.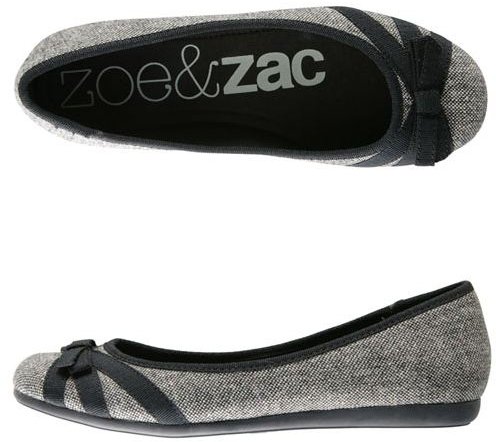 This shoe retails through Payless at $24.99 and comes in four different colors with associated decorative bows.
For more information on this newest eco-shoe fashion line, you can visit either the Payless page at www.Payless.com or Summer's main collection page at www.zoeandzac.com
*images used were provided by and are Copyright 2008 Eastborough, Inc.