Simple Eco Shoes: Product review of envrionmentally friendly shoes by Simple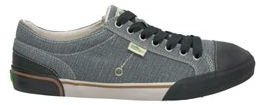 Ready to Wear Eco Shoes
Simple is a shoe company that started back in 1991 with the goal of creating quality footwear without all of the commercial hype. Around 2004, Simple began to go green with their GreenToe line of earth friendly footwear. In the beginning there were only two shoes featured in the GreenToe line and today Simple has changed their product focus to creating only sustainable and environmentally conscious footwear. Their slogan has changed from Simple, A Nice Little Shoe Company to the current inception of Simple, Shoes for a Happy Planet.
Understanding that the key to becoming a better company was to not only offer sustainable shoes but to create their shoes in a sustainable way, has lead the Simple group down the road of becoming one of the best ready to wear earth conscious companies in the global market. Because they are in the process of getting greener, there are three main categories into which all of their products fall. The first category is call Good, which places the product in the area of being close to a sustainable product. The second category is that of Better, which means that the item status from creation through to finished product is almost sustainable. The third category is called Best, which means that if a product is labeled in this way it has become fully sustainable from design, organic material choice and through to production. The Simple company's goal is to end up with all of their products being labeled in the Best category.
The ready to wear eco shoes that are labeled in the Best category range from men's, women's and children's footwear. Under the men's footwear ecoSNEAKS collection the Tuba's appear to be the most popular shoe.
The men's Tuba Shoes are organic cotton sneakers that come in both plain and plaid pattern. Each pair is also constructed using 100% certified organic cotton uppers and linings, recycled inner tube heel and toecap, recycled car tirepedbeds and out soles and 100% post consumer paper pulp foot forms. These men's shoes range in size from U.S. sizes 3-18 and are also offered in size ranges used through the European Union, United Kingdom and Japan. Each pair of Men's Tuba shoes retails online at $70.00.

Also under the Best category are the women's Caramel Hemp shoes. These shoes come in a mary jane style and are also a part of Simple's ecoSNEAKS collection. The shoes are made from sustainable hemp uppers, certified organic cotton knit linings, recycled car tire pedbeds and vulcanized rubber sidewall and heelcap.
Size range for these shoes come in U.S women's sizes of 5-12, as well as a women's size range for the United Kingdom, European Union and Japan. Each pair retails online for $55.00 and comes in three color options of Cub (like beige), Black and Natural (almost white).
For more information on Simple's entire line of ready to wear eco shoes and bags, visit their main web site at: www.simpleshoes.com
*images provided by Simple, Shoes for a Happy Planet