Renewable Fabrics for Eco Fashion by Elaine Kim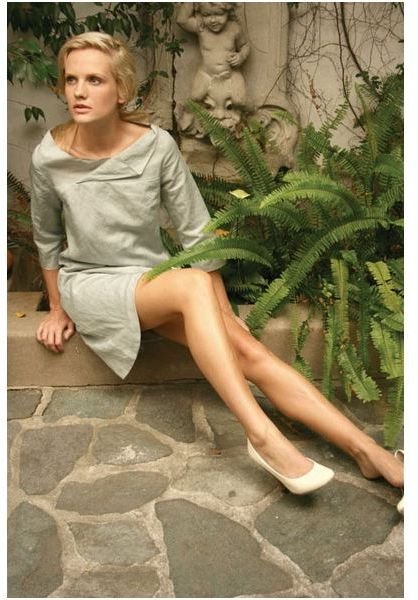 New Eco Fashion from Elaine Kim
Fashion designer Elaine Kim has taken an eight year hiatus from the design world after creating for her previous line Product. After much reflection and unstoppable creativity she is back with her own line of eco-fashion that blends modern design with environmental awareness. Born in Korea and then raised between San Fransisco and Los Angeles, Elaine brings a sense of worldly comfortable fashion that she describes as being artisan and thoughtful with clean lines.
The new collection debuted during last years New York Fashion Week to wide applause for style and eco-consciousness. Elaine's new designs use the new cupro cotton material. Cupro cotton is a soft fabric that is made from regenerated cellulose fibers from discarded cotton husks and wood pulp. The husks and pulp that provide the cellulose fibers come from the linter of the cotton boll which is a renewable source material and is regenerated on a yearly basis. By using the cupro cotton, Elaine is choosing to forgo both petroleum and forest depletion making the source of the fabrics she uses as environmentally sustainable as the fashions she creates from them.
In the Spring 2009 collection, Elaine has a variety of modern eco-fashions in which to choose from. Dresses are the main attraction for the line with an abundance of sleeveless arms and billowy skirt bases. The color selection for the collection ranges from soft muted beige and grays to bold blacks and vibrant yellows and coral. To the left, we see one of Elaine's more popular Spring 2009 designs in that of the Bethany Dress in Slate. The Bethany is made from a cupro, cotton and 6% polyester blend and retails online through Elaine's shop for four hundred and twenty-nine dollars.
Currently, Elaine's designs from the Fall/Winter 2008 and 2009 collections as well as the Spring 2009 collection can all be purchased online through her shop. None of the online purchases are available for resale and the standard shipping through UPS applies. Free shipping is only offered if the final purchase price amounts to eight hundred dollars and can be requested through ground shipping. Other than ground shipping, when buying over eight hundred dollars and there will be an added cost for the shipping process.
For more information on Elaine Kim and her eco-fashion lines, visit her main web site at: www.elainekim.com
*Bethany Dress model image courtesy of Elaine Kim
This post is part of the series: Earth Friendly Fashion Quest
It is possible to be both fashionable and eco-friendly with the help of some amazing and innovative designers. Check out the latest fashions whether they're made of the softest organic cotton or from recycled plastic bags.