Eco-Fashion from Recycled Plastic Bags: Boots, Bags, Dresses, and Jewelry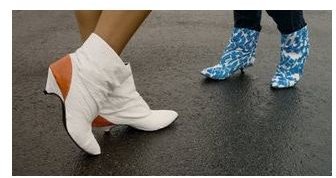 Dacca Boots by Camila Labra
Designer Camila Labra first created Dacca boots as her solution to a challenge presented to her at design school: to make something out of unexpected materials. The go-go style ankle boots turned out so well the Chilean designer now has them available in several colors and prints (for only $45.00) at botasdacca.blogspot.com. Each pair of boots uses about 8 plastic bags and are lined with cotton for comfort.
Kaleah Ott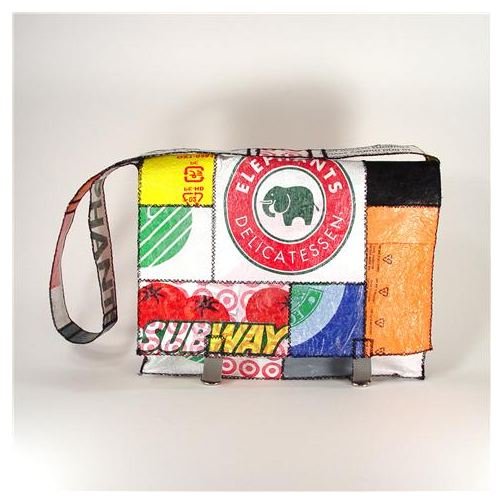 Artist Kaleah Ott of Portland, OR, asks, "why trash it when you can flash it?" Her Etsy store at kaleahott.etsy.com stocks her handmade one-of-a-kind bags and wallets made from recycled plastic bags and reclaimed soda can tabs. For every $100 in sales on her site, Ott pledges 1 hour of volunteer work for a variety of Portland area non-profits.
Making use of ubiquitous used plastic grocery bags, Ott fuses several bags together to create a multi-layered plastic fabric she uses to create her designs. Ott offers messenger-style bags, purses, make-up bags, clutches, and small zippered pouches.
Her unique and durable PopTop Bags are craftily constructed from soda can pop-tops and 100% nylon cord.
Ott wants to remind consumers they can always bring their used plastic grocery bags back to the store for recycling collection. "Don't try to recycle grocery bags with your curbside pick-up," she says. "Plastic grocery bags are a frequent cause of jams in recycling machinery and a leading cause of injuries among recycling workers."
Cara Taylor Handbags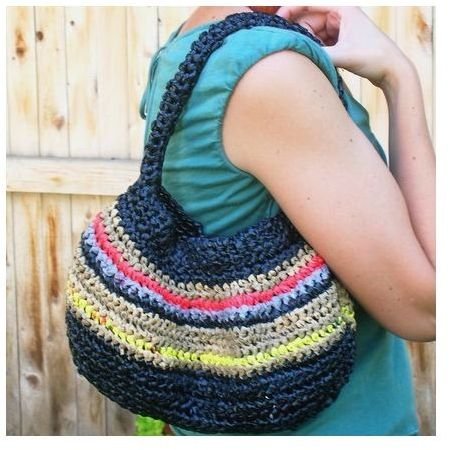 Also available at Esty are Cara Taylor's line of handbags constructed from recycled plastic shopping bags. Taylor cuts the plastic into strips, creating a yarn (or "plarn") that she then crochets into bags, coin purses, clutches, and even bracelets. See her latest offerings at carataylor.etsy.com.
Cathy Kasdan
Artist Cathy Kasdan states, "There are two influences to my current work: the home economics crafts from my childhood and the apparent lack of societal concern for the use and abuse of material." Kasdan creates artful clothing such as dresses, skirts, shirts, and even an Icelandic-style sweater from plastic grocery bags, seen at cathykasdan.com.
Anna Roebuck
Fine jewelry created from plastic bags is the specialty of Anna Roebuck, who runs Bags 2 Riches designer recycling studio. Through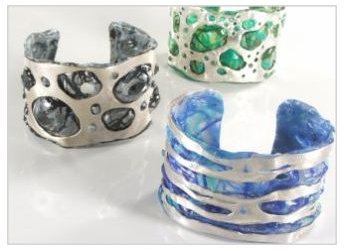 a conglomeration of melting and manipulating techniques, Roebuck turns plastic grocery sacks into pieces such as earrings, cuff bracelets, and necklaces. Her Bubbilicious line features colorful plastic cuff bracelets with a "bubbly" sterling silver overlay.