Natural Made Baby Cribs for a Sustainable Family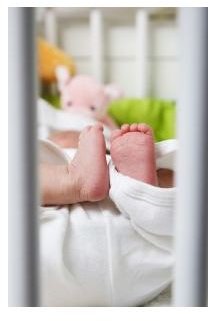 Baby's Bed
Babies require sleep in order to grow, so much of their time will be spent sleeping at night and napping during the day. Their bedroom should be a safe area where they can rest and feel at home, which is why creating a relaxing and comfortable atmosphere is beneficial and buying an eco-friendly crib is the first step.
Pros of Buying an Eco-friendly Crib
Eco-friendly cribs are not only better for the environment, but they can also be more functional and safer for your child. Wouldn't you want your baby to sleep in a less toxic environment? Well, finding a sustainable crib can give you some peace of mind.
Although the crib is the foundation, a safe mattress is just as important. Some organic mattresses are made with rubber that is naturally hypoallergenic, antibacterial, and mold and dust free. Also, the 100 percent organic wool and cotton mattress covers provide a soft, pesticide-free area for your baby to lie.
Why is a green baby crib healthier? Since babies mouth everything, it's safer to have a non-toxic crib, which means that it doesn't have toxic finishes or formaldehyde in the wood. Instead you can purchase a natural made baby crib with a water-based finish (free of VOCs) made from locally-sourced, formaldehyde-free plywood.
Convertible Crib
One of the main advantages to eco-friendly cribs is their versatility and functionality. For example, baby 3 in 1 cribs are transitional pieces that can be used while your child is an infant and toddler. Some convertible cribs serve three functions: crib, daybed and toddler bed. Using one of these cribs as opposed to traditional ones that serve one function can save you money as well as reduce your family's waste. Having a crib that grows with your child is convenient any way you look at it.
Where to Find Eco-friendly Cribs
One of the best ways to find natural made baby cribs or mattresses to meet your green needs is online. There are a variety of designs made from a diverse range of materials. Some online stores where you can find eco-friendly cribs include Pristine Planet, Kids and Baby Design Ideas and Goodnight Room NYC. For mattresses, check out Naturepedic or Lifekind Organic Mattresses. However, you would be surprised at the options you will find at local baby stores too.
Your baby is going to be exposed to all kinds of germs and toxins over its lifetime, but you can set a healthier foundation from the start. Having an eco-friendly baby room doesn't have to be an environmental choice, it can be a healthy choice for you and your family so don't forget to add it to your baby registry.
References