Guide to Electric and Push Reel Lawn Mowers - Mow Your Lawn Gas-Free!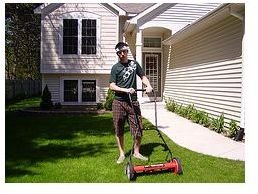 Cutting back on gas is a top priority if you are trying to live a green life. When searching for ways to reduce your gas use, don't overlook your use of gasoline during the summer months to mow your lawn. You can still keep a tidy yard while reducing your carbon footprint - and you won't be breathing in all those gas fumes!
Gas-free options to mow your lawn include using an electric lawn mower or a push reel mower. In recent years as the green movement has gained momentum, the market has seen an increase in gas-free mowers. An electric robotic lawn mower, called the Robomow, was even introduced to the market a few years ago!
Electric Lawn Mowers
Electric lawn mowers come in corded and cordless models. The corded mowers are lighter and less expensive, but you then have to mow your lawn within reach of an extension cord. For small yards, a corded electric mower is a good fit.
Cordless electric mowers are a great gas-free option to mow larger yards. Though they can be heavy with the weight of the battery, most can run for about an hour with the battery fully charged. If you need longer than an hour to mow your lawn, a dual-source electric mower, such as the Remington PowerMower, may be for you. When the battery power runs out on the PowerMower, you have the option of using the power cord to keep mowing without having to recharge. Other battery-only models need to a spare battery to keep mowing.
Corded and cordless electric lawn mowers are made by Epic, Black & Decker, Remington, Esselte Earthwise, and other manufacturers.
Push Reel Lawn Mowers
Back in the day before gas-powered mowers, push reel mowers were the way to trim your lawn. They still work great! For smaller yards, a push reel mower can make quick work of cutting your grass and give you a little exercise in the process. I use a push reel mower (inherited from my grandma) all season long on my small yard and I actually look forward to using it!
Modern push reel mowers are notably less heavy than my old-fashioned model. In fact, compared to a heavy cordless electric mower (which can weigh as much as 60 pounds) they are easier to move around. Weighing about 17 pounds, the Brill Razorcut 38 is the latest in push reel mowers. Its sealed bearings ensure minimal maintenance and its blades won't need sharpening for up to 10 years!
Other push reel mowers on the market come from Sunlawn, Scotts, and Agrifab. Investing in a push reel mower will help you keep your yard trim while cutting back on gas. Even if you use a push reel mower occasionally or in a small section of your yard, you can feel good about using manpower instead of gas to keep your yard in top shape this summer.
Image courtesy of flickr.com creative commons licence