Buddha Nose Review: Organic Beauty & Wellness Products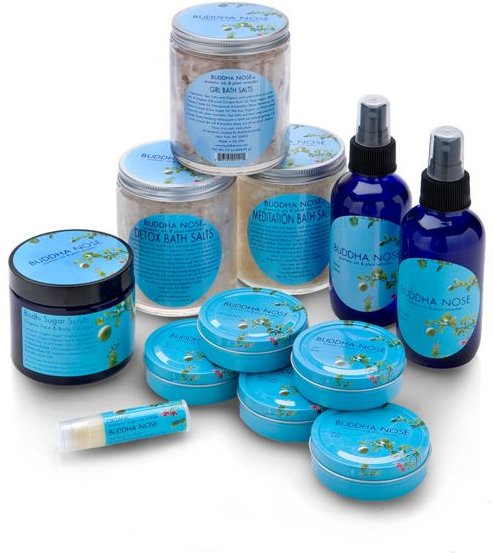 Buddha Nose: Organic Beauty
Buddha Nose was created by Amy Galper, who is a professional shiatsu practitioner based in New York. In an effort to educate and help her clients, she developed her own line of organic beauty products to enhance wellness and support women choosing to live a greener lifestyle.
Currently, the Buddha Nose carries twelve organic beauty and wellness products. The hand blended products contain both wild-crafted and USDA certified organic ingredients. The packaging for each product is recyclable and Amy is in the process of making all packaging sustainable as well.
The most popular products from the Buddha Nose are the balms. The balms range for regular body use to standard lip balm. The Certified Organic lip balms are sold out at the moment but there are other skin and sense rejuvenating balms available. The Bodhi Balm is a full body moisturizer that contains the essential oils of Ho Wood, Juniper Berry, Cedarwood and Frankincense blended into an organic beeswax and hemp oil base.
The bath salts line currently contains three organic bath products. The Girl Bath Salts are for use to ease hormonal shifts, help erase cramps, and promote relaxation. Essential oils in the Girl Bath product are Clary Sage, Rose Geranium, Ginger Root and Black Pepper.
The second salts product in the line is the Detox Bath Salts made to help the release stress, soothe sore muscles and ease feelings of anger. Oils included in the detox salts are Grapefruit, Lemon, Cypress, Fennel, Ginger Root, Rose Geranium and Juniper Berry. Third is the Mediation Bath Salts with essential oils of Frankincense, Cedarwood, Sandalwood and Ho Wood.
Other organic products from the Buddha Nose include bottled sets of various essential oils, misting sprays and purpose salves. They offer a sugar scrub product, called The Bodhi Sugar Scrub, which is made from a base of organic sugar and the essential oils of Ho Wood, Juniper Berry, Cedarwood and Frankincense.
For more information on the organic beauty products available from the Buddha Nose, visit their website at www.buddhanose.com.