Tom's of Maine Organic Dental Care Review: Toothpaste, Mouthwash, Dental Floss & More Made with Organic & Natural Ingredients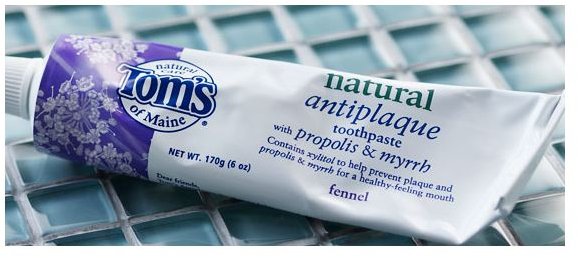 Organic Mouth Care: Tom's of Maine
Tom's of Maine is one of the better known established organic and environmentally friendly companies on the green scene today. Based out of Kennebunk, Maine the company first began developing organic mouth care in 1975. Tom's of Maine single natural toothpaste was the spark that lead to the organic creation of several types of natural toothpastes, mouth washes and dental flosses. Today they have developed a total of seventeen organic mouth care products, all which now have expanded distribution through a joint venture with Colgate-Palmolive.
Toothpaste
The Tom's of Maine line of organic toothpaste products contains thirteen different types of pastes. While a few of the pastes focus on general mouth health, there are other pastes that have been created for specific mouth related issues.
One of their pastes is the Anti-plaquePropolis and Myrrh paste created without fluoride to promote healthy teeth and gums while fighting plaque. They also have developed a paste for sensitive teeth and gums called Sensitive CareSLS-free. The Sensitive Care paste uses a purified form of licorice root as an alternative SLS, which is an ingredient in non organic pastes that can sometimes cause more sensitivity when used over an extended period of time.
Mouthwash
The mouthwash line from Tom's of Maine only contains two forms of wash for organic mouth care. The first one is the Natural Cleansing mouthwash that uses witch hazel as an astringent and is alcohol and saccharin free. The second one is the Natural Anti-Cavity mouthwash made from Green Tea, Chamomile, Aloe Vera leaf juice and naturally sourced fluoride.
Dental Floss
The organic dental floss that Tom's of Maine offers is made from nylon filaments that are woven together, making a stronger floss. Currently, they have only two products of the same type but where one floss is rounded the other is straight. Both flosses are coated in a combination of natural waxes to help the nylon slid through the teeth easier and be less abrasive to the gums.
If you would like to learn more about the organic mouth care products that are created by Tom's of Maine, you can visit their main web site at: www.tomsofmaine.com
*photo courtesy of Tom's of Maine