Make a Homemade Flea Repellant or Spray for Dogs and Cats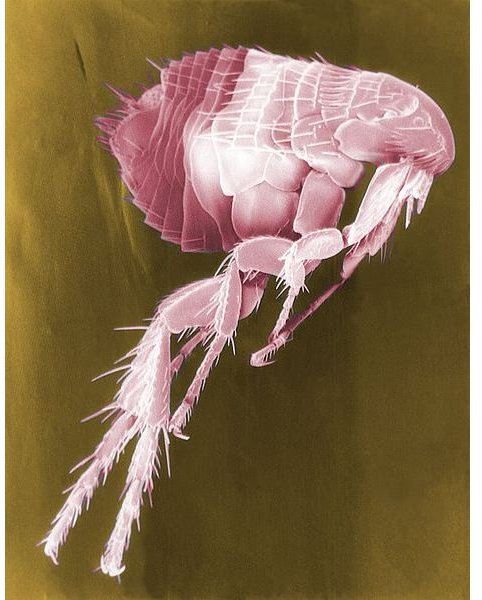 When your pets get fleas, it can cause you a big headache. They can get into the carpets and any other soft fabrics and start biting you too. Pets can get fleas during all of the seasons, especially in the winter when the weather temporarily warms up. To prevent your pet from coming into contact with those pesky fleas, a natural flea repellent can provide an excellent barrier between your pet's skin and the fleas. Below are some tips to make homemade flea spray.
Store Products vs. Homemade Flea Killer Spray
Making a flea killer spray at home can be less expensive and just as effective as the ones you find at pet stores. Not only is it cost-efficient, but it's also convenient because most of the ingredients that go into the homemade flea repellants are ones that you usually keep in your refrigerator or kitchen pantry.
The best part about homemade flea spray is that it's nontoxic and safer to use on your dog or cat. Many of the store-bought flea sprays contain toxic chemicals that your pets will end up ingesting when they lick their paws and clean their fur. Using natural ingredients can keep your mind at ease and prevent your pet from having an upset stomach, skin irritation, vomiting, diarrhea, etc. So what is a good homemade flea spray for dogs and cats?
Flea Spray Recipes
Mixing equal parts of white vinegar and water in a spray bottle can be an effective and cheap flea repellent. Mist the solution onto your pet's coat and work it in with your hands or a brush. This solution is free of fragrance and skin-irritating chemicals.
Another option, which is just as easy, is to thinly slice a couple lemons and boil one pint of distilled water. Place the lemon slices in a heat safe container and pour the boiling water over them. It's best to prepare this solution ahead of time so it has a chance to steep overnight. To apply, use a cotton ball and dab it into the mixture and stipple you're your pet's fur (avoid soaking your pet). The citrus oils from the lemon will naturally repel the fleas.
Both of these recipes can be used on dogs and cats, and these treatments should be repeated every couple of days to ensure that your pet is protected. Please keep in mind that cats will be more reluctant to cooperate because of how these treatment smells and the fact that they involve wetting down the fur. However, protecting your pet from fleas, regardless of how much of a hassle it can be, can keep your home itchy and disease free.
Sources Used
This post is part of the series: How to Kill Fleas in the House Naturally
Here is some great advice on how to kill fleas in the house naturally and organically without using dangerous chemicals.