Urban Gardening: Planning Vegetable & Herb Gardens in City Lots or Apartment Buildings: Cottage Gardening, Hanging Gardens & More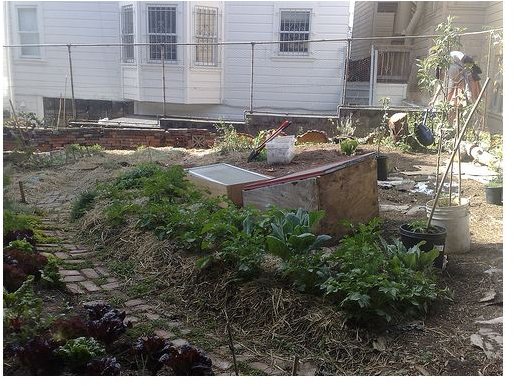 Urban Gardening
How Much Space Will You Need?
The first thing most people who are just getting into urban gardening do is to plant vegetables and herbs. If you live on a small city lot or suburban
area you may think you don't have the space or ability to make your own garden or grow produce for you and your family. You should be happy to hear that you can successfully become more self-sufficient and plant your own vegetables even when living in the city or in an apartment! There are many solutions, such as cottage gardening or growing your plants vertically to save on space. To have successful vegetable and herb gardens, you should have a space that gets at least 6 hours of direct sun each day. If possible, run your rows north to south to minimize shading.
A vegetable garden of 300 Square Feet (30' x 10') will feed a family of four. If you don't have a large enough space to plant your entire garden in one place, there are ways to get your square footage from places you would never expect. It isn't always necessary to plant vegetables in straight rows.
Finding the space for a vegetables and herbs in an already established landscape plan can be challenging. You can get more room by planting a true cottage garden, where vegetables, herbs and edible flowers are all planted together, utilizing space that would otherwise be wasted on one crop. Companion planting works well in cottage gardens.
Crops You Can Grow in Shade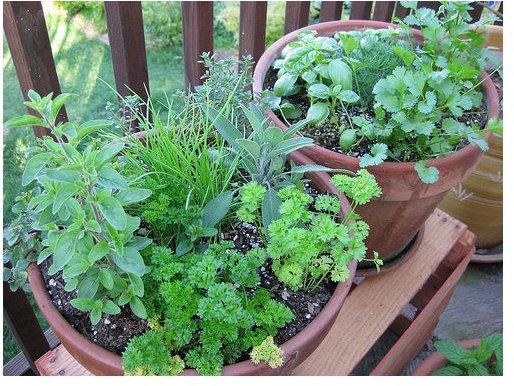 Plant herbs around the bases of small trees and shrubs, such as fruit trees or berry bushes. Many herbs can tolerate some shade, and some, like creeping thyme and oregano, make lovely ground covers to keep weeds away from the bases of trees. Mints, chives, garlic, and parsley are all shade tolerant herbs that can grow on 2-3 hours of direct sunlight a day.
If you have a semi-shady spot that gets at least 2-3 hours of sunlight a day, plant shade tolerant vegetables, such as beets, brocolli, kale, kohlrabi, lettuce, radishes, rhubarb, spinach and turnips.
Some tropical vegetables like eddoe and malanga can be grown in deep shade under trees.
Get Creative with Gardening Space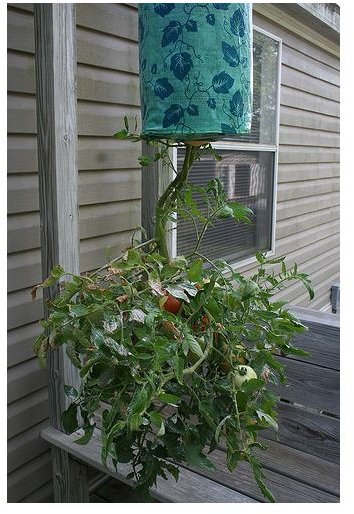 Use vegetables as ground covers. Sweet potato vines have lovely leaves that can be used to cover bare spots, or as a ground cover to prevent weeds in flower gardens or foundation plantings. Malabar spinach is an attractive edible vine.
Hang your vegetables. This is a very innovative way to grow crops such as tomatoes, mints and herbs. Tomatoes can actually be planted upside down in the bottom of a hanging basket. Herbs such as catnip are best grown in a hanging basket to keep the neighborhood kitties away.
Plant herbs in pots on your front porch or on the top of a wall. What would be more lovely than to have some pretty trailing herbs draping down your wall? Mixed herb pots are a very attractive addition to any doorstep.
Use edibles as ornamentals. There are some lovely edibles, such as Hibiscus acetosella, which has lovely dark burgundy leaves, Chaya (spinach bush) has multi-lobed leaves to add texture to your garden, as well as clusters of dainty white flowers. flowers such as nasturtiums and sunflowers add edible beauty, while many elephant ear plants have edible leaves and roots.
Why Not Grow "Up" with Vertical Gardening?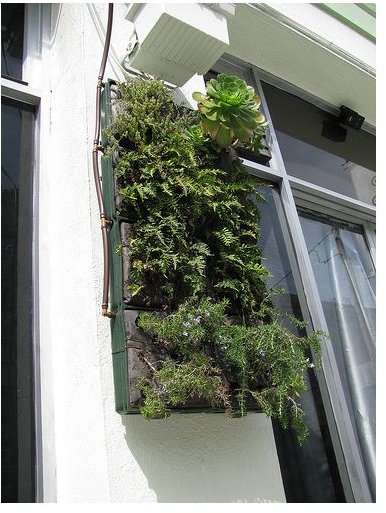 Vertical gardening is a wonderful way to create space. By trellising plants upwards, you can increase your garden space by as much as 50%. This works very well for apartment dwellers who grow on patios. You can literally create an arbor of vining vegetables on a city patio, and grow shade loving vegetables and herbs underneath.
Vertical plantings can also be done on fences, and by putting wire and string onto walls for climbing plants to wind or be tied on. Espaliered fruit trees are not only lovely and artistic, but actually bear quite well.
By creatively utilizing every square inch of sunny space you have efficiently, and planting in shade when you can, you will you find the space you need to plant your vegetables and herbs, while creating a beautiful, and interesting landscape.
Picture Credit
Urban Garden: https://www.flickr.com/photos/ajturner/2467549605/
Herb Pots: https://www.flickr.com/photos/thomaspix/2369416608/
Hanging Tomato Planter: https://www.flickr.com/photos/theresaashmore/3677292810/
Vertical Garden: https://www.flickr.com/photos/mlinksva/3364026611/
This post is part of the series: Urban Homesteading in Florida and Beyond
Want to be more self-sufficient? Urban homesteading is the act of taking any city space you have, be it an apartment balcony or a small city lot, and turning it green. Whether you grow a few vegetables or move completely off the grid, it's an adventure you won't regret!