Green Closet Design & Organization: Reduce Clothing & Eliminate Clutter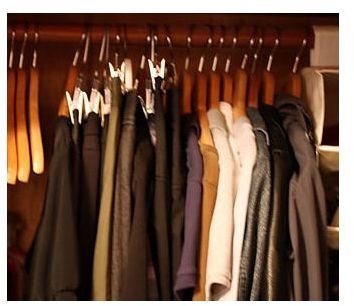 The Hard Part: Getting Organized
Nothing can be more frustrating than having to sift through piles of clothing in order to find the shirt you wish to wear. Not only does it take up your time, but it can also prevent you from wearing the clothing that you have. What is the point of buying new clothes if you can't find them to wear them?
To start yourself on the eco-friendly path, it can be easier to sort out the clothes that you no longer want. Maybe the clothing is too small or too big or maybe it's just old and falling apart. By clearing the clutter in your closet, you can start a green closet method from here on out.
Sell Your Clothing for Green
Clothing that is salvageable and can be worn again can be donated to a local charity, but if you have gently used or new pieces, go one step further and sell it. You can get some of the money back for these clothes by selling them at consignment stores such as Plato's Closet, or you might have another family owned secondhand store in your area. Regardless of which option you choose, you are still recycling and reusing your clothing.
DIY Green Installations
Installing an eco-friendly clothing bar in your closet is ideal for your delicate items that need to be hung up to dry. You might even find that you use the bar to hang up wet towels, shirts and pants too. It's always beneficial for the environment when you can dry your clothes without the use of electricity. So by the time you get back home from work, your clothes will be dry and wrinkle free. Plus, you don't have to worry about shrinking anything if it's left out to dry.
You can also install adjustable shelves made from composite wood paneling. These shelves can help you keep your pants, t-shirts and sweaters organized. There will also be room for other items like shoes, purses, ties, etc. Cubby holes and extra shelving keeps items visible and organized.
For a fresh scent in your closet, spray your clothing with a light mist of water mixed with your favorite essential oil aroma. Lavender as well as other citrus oils can provide freshness where it needs it, especially if your clothing smells stale or like cigarette smoke. Pets can leave an odor on your clothes too.
The most important thing about new closet installations is that the products are made from sustainable materials such as bamboo, organic cotton, recycled goods, etc. So before you buy a cool closet gadget or organizer, find out what it's composed of and how the material was processed (e.g. was the cotton grown organically?).
Limit Your Shopping
An easy way to maintain your closet is to limit the amount of shopping you do. When you shop too much, you end up having too many clothes to choose from. Most likely you will not be able to wear them all so it will be a waste that you bought more shirts, pants, etc. If you can't resist buying yourself new clothes, make sure to recycle old clothing you no longer or rarely wear or stick to the discount racks at secondhand stores.
Managing a green closet takes time at first, but it will ensure that you wear the clothes you already own. In addition, by weeding out your closet every so often, it will prevent unnecessary clutter and will also make you aware of the types of items you own.
References