Deborah Lindquist's Eco-Fashion: Clothing Made with Organic Materials & Fashionable Too

Deborah Lindquist's Eco-Couture
Deborah Lindquist is a fashion designer that specializes in eco-couture. She started in design training with the Parsons School of Design in New York and began to fit her love for the environment and living green into her clothing creations. Deborah launched her first eco-conscious line in 2004 and has since gone on to design eco-clothing for Gwen Stefani, Hillary Duff and Jessica Simpson.
One of Deborah's goals is to use never before seen fabrics in couture style. Her collection's are a blend of pre-loved fabrics such as cashmere, recycled leather and wool with the addition of organic cotton, peace silk, soy chiffon and hemp blends. Banana fabric and sea shell textiles were added into her fabric selection in 2006, with more recycled and sustainable fabrics to come through each collection as they become available in 2011. To learn more on why using eco-fabrics is important to the environment, see Examining the Textile Carbon Footprint which takes a look at what using commercial fabrics for fashion does to the overall environment.
Because of her eco-couture style, Deborah has set the bar higher for both "up and coming" fashion designers and established designers. Her collection has shown that you don't have to give up on high style just to be eco-friendly. Here we take a look at what are available lines are and show which design aesthetic each one focuses on.
Eco-Couture Collections
One of the highlights in each collection is the avantgarde combination of high end eco-chic and casual wear. Layers prevail in vibrant colors, offset with the natural tone of the hemp blends. Slip dresses, baby-dolls and pencil skirts are always a running theme in the hemp blends, while the sweaters, vests, shrugs, tights and recycled demin range from muted to established basics.
Only the latest three collections are still available for purchase online, as past seasons are rotated when a new collection is created. Deborah's current collections are: Goth Girl Goes to the Country, Rocker Girl Meets the Gypsy and Cowgirl Meets Thunderdome.
In Goth Girl Goes to the Country, we see a blend of the darker side of fashion with the high style of couture country. The idea is to think of a wealthy girl visiting her country home and not country and western. This collection contains thirty-one looks that range from more Goth to more Country and a blend both on most outfits. In the image shown at the upper left, is look #29 with a peace slik blouse, vintage wool corset, peace silk skirt and Alpaca knit stockings.
The Rocker Girl Meets the Gypsy collection focuses on hard edges with a free-spirit feel. Blending the darker style of a hard rock girl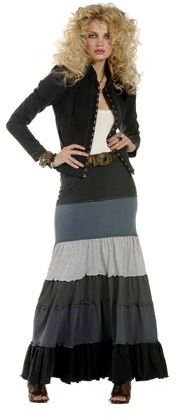 with the flowing lines of gypsy style, each look showcases comfortable eco-fashion. Containing thirty looks in all, the focus of this collection is in recycled vintage fabrics that give a musical element to the fashion. In the image at the left is look #18 which features recycled cotton skirt, silk and recycled spandex t-shirt and a recycled denim jacket.
The latest eco-coture collection is the Cowgirl Meets Thunderdome, which blends the style of a country and western look with that of the costume style from the movie "Beyond the Thunderdome". Each of the thirty-one looks in this collection showcases the dramatic style that couture is known for with comfortable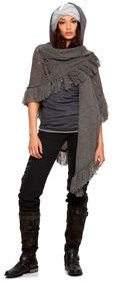 wearability. Seen in the image to the right is look #21 with silk slashed shirt, Alpaca hooded cape and distressed vintage jeans.
Green Bride Collection
Deborah has also started her own line of eco-conscious wedding apparel. Currently, her The Green Wedding collection contains ten couture gowns. The base materials for each gown are a combination of hemp, silk organza and soy chiffon. Natural to light beige is the main color pallet within the line except for one gown with a splash of pink and another with a black lace bodice overlay.
Deborah's not the only fashion designer bringing recycled fashion to the mainstream. With information being revealed about the chemicals used in modern commercial fabrics, more designers are following Debroah's lead and using vintage fabrics with a blend of eco-friendly fabrics to create wearable fashions. Learn more about what fabrics have chemicals in Hazardous Chemicals in Clothing and Fabric.
The variety in the lines that she chooses enables her to remain true to being able to design in a green way and leave as little carbon footprint as possible. By recycling pre-loved fabrics and incorporating new eco-fabrics, Deborah will continue to create her vision of eco-couture collections for many years to come. Her store front is located in the North Hollywood Arts District.
*images used were provided by and are Copyright Deborah Lindquist 2009-2011