CommonThreadz Eco-Shirts: Sale of Every Shirt Provides Clothing for Charity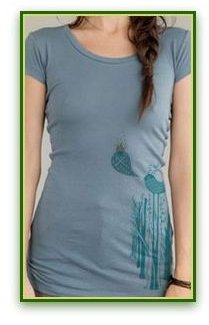 What Is CommonThreadz?
CommonThreadz is a non-profit working to educate and save children living in developing nations. Their clothing line goes beyond the standard of organic fashion and incorporates improving the quality of life through open projects to create both sustainable eco-shirts and sustainable lives for millions of people all over the world.
Their limited edition and standard lines of green t-shirt designs generate education and awareness in the general public, as well as funding the various projects that they help to support throughout the world. The overall goal is to bring awareness of the global green movement while providing people a fun way to express their views. Many companies that are a part of going green focus on sustainability, education, and their end product. You can find another fashionable eco-group through Eco-Clothing: Deborah Lindquist.
Eco-Fashion Programs
Among their social projects is their ongoing School Uniform Project. The School Uniform Project uses the profit from the sale of select t-shirts to help provide orphans and other vulnerable children in Africa with school uniforms. In many areas there, if a child does not have a school uniform, they are not allowed to go to school.
CommonThreadz helps take the pressure off those orphanages and families that struggle to provide a meal and shelter for their children by buying the school uniforms. Every eco-shirt that is bought from the limited edition collection in turns buys one full uniform for a child.
The School Uniform collection is comprised up of eighteen different t-shirt designs. Some designs are offered in the standard crew style, while some designs are offered in various styles that range from baby doll to Joplin. Each shirt in this collection retails for $38.00 and only 250 of each design is created by donation through various professional designers.
The Shoes for Kids program is a complementary one to the uniform project. With this program, CommonThreadz helps to provide shoes for children who would otherwise go without any footwear at all. They allow people to both buy and participate in the creation of a pair of shoes for children in either Africa or Haiti.
The ASAP Project helps the African Solutions to African Problems organization fund their School to School project. ASAP is a limited time period project, and CommonThreadz takes suggestions for nominating a new project every year. Other programs that CommonThreadz currently have in development include: Youths Club, Student to Student Sandwich, Child Sponsorship, Land Development, Rebuilding Obanjeni Primary, Microcredit for Women, Skills Training and Economic Development for Women and the Students Giving Schools Hope. If you would like to suggest a project for CommonThreadz, you can do so at through the Project Idea Submission Form.
References
CommonThreadz, https://www.commonthreadz.org
*image provided by CommonThreadz a 501(c)(3) public charity