Review of Kiss My Face Styling Gel and Mousse: Find Organic Gel and Mousse Ideas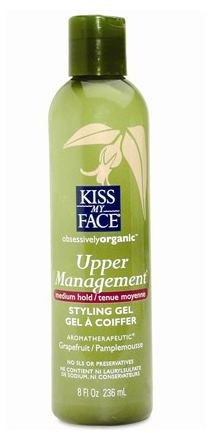 Kiss My Face has developed only two organic hair styling options when it comes to getting hair style in a green way. Although, the company only has two products available right now they are in the process of developing more organic hair styling products. Here we are going to take a look at these two organic styling powerhouses and what they can do for you.
**
Organic Hair Gel
Upper Management: Medium Hold Styling Gel - Organic hair gel that uses a base of Vitamin E and organic Aqua of Urtica for hold. Aqua of Urtica is a purified water based process of pulling Nettle extracts from the plant. This product was created to give you shiny, full locks that stay where you style them in a non-sticky way.Without weighing hair down, this product also as an infusion of natural vitamins to nourish your scalp and hair when in use. Chamomile tea extract is added for extra conditioning purposes. This product comes in a 8 oz bottle.

Organic Hair Mouse
Hold Up: Easy Hold Styling Mouse - A creamy organic styling mouse to add volume, shine and control to your hair style with a light hold. Wheat protein is added to help lock in moisture to the hair, so that your style won't dry out during the day. Burdock root is used to strength the hair when in use of the product and Rice proteins are added to give additional strengthening qualities while smoothing the hair shaft from fly-aways at the same time. Scented with Ivy,Fenugreek, Lavender and Lime extracts. This product comes in an 8 oz pump bottle.
Both of these organic hair styling products are packaged in SLS and Paraben free, recyclable bottles and are sent in 100% recyclable paper boxes. Neither one of these products contains any animal ingredients and they have not been tested on animals.
For more information and to stay up to date when Kiss My Face comes out with more organic hair styling products, visit their main web site at: www.kissmyface.com