Overview of Kiss My Face Organic Facial Soaps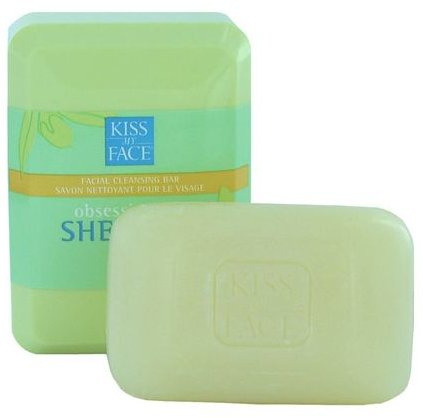 What is Kiss My Face?
The Kiss My Face company began in the 1980's on an organic farm in the Hudson River Valley area of New York state. It was created by Bob MacLeod and Steve Byckiewicz in an effort to bring a healthier and greener way of personal care to more people. Based on their early success in selling their wares in New York City, Bob and Steve added to their starter product of green soaps and created Kiss Organics.
Under the Kiss Organics product line from Kiss My Face, the advent of organic personal care products made from wild-crafted and organic ingredients gained in popularity. Today, the Kiss Organics line is one of the most well known and reliably green product lines available in the United states.
For more information on green personal care products from Kiss My Face, check out Organic Styling Options: Kiss My Face and Kiss My Face Active Enzyme Deodorant Review.
Organic Facial Cleansers
Shea Soy Facial Cleansing Bar - This is a creamy, fragrance free facial bar that blends aloe vera, soy, and wild crafted shea butter to hydrate skin while cleansing. The high concentration of shea butter in this bar is designed to help your facial skin retain its elasticity. This cleanser comes in a five ounce bar.
Clean for a Day - This is a creamy facial cleanser that was created to be non-drying to the skin. Blending wild crafted shea butter, jojoba oil, and ester C vitamin, this bar will both cleanse, hydrate, and give your skin the ability to fight free radical damage on a daily basis. It is lightly scented with an infusing of lavender and ginger essential oils. This cleanser comes in a four ounce tube.
Pore Shrink - This is a deep pore cleaning eco soap mask that was created to control acne breakouts and other facial blemishes. A blend of clove, tea tree, and lemongrass oils gives this cleanser antiseptic and anti-inflammatory qualities. It is lightly scented with dandelion and milk thistle herbals with peppermint and grapefruit oils. This cleanser comes in a two ounce tube.
So Refined - This eco soap cleanser is made from a base of jojoba and mint oils. Created to gently exfoliate through use of jojoba beads, this cleanser will also have skin regenerating properties through the addition of grape seed oil. The blend of eucalyptus and camphor oil is meant to stimulate fresh facial skin. This cleanser comes in a two ounce tube.
Start Up - This eco soap cleanser was created to exfoliate and clarify the skin. Based on an organic lemongrass formula, this product has natural anti-microbial, antioxidant, and anti-inflammatory proprieties. Green tea is also added for its skin cleansing and rejuvenation qualities. It is lightly scented with lavender, rosemary, and sage floral waters. This cleanser comes in a four ounce tube.
Each eco soap product made by Kiss My Face never contains any artificial colors or unnecessary chemicals. Products also do not contain animal ingredients and are never tested on animals. Packaging for each product is both SLS and Paraben free.
If you would like to learn more about the facial care line at Kiss My Face, visit their main web site at: www.kissmyface.com